*A podcast related to this article will be released on Newsbeat LA tomorrow, 3/28/23.
The elephant in the room at the first Citizen Oversight Committee hearing on deputy gangs on March 16th was obvious to some, but not to those who are demanding transparency and accountability from the Sheriff's Department, which includes one of their own commissioners currently under criminal investigation by the California Attorney General.
Patti Giggans, CEO of Peace over Violence, has been under investigation by the Los Angeles County Sheriff's Department since 2020 (along with former LA County supervisor Sheila Kuehl and Biden FAA nominee and former L.A. Metro CEO Phillip Washington) for her alleged involvement and possible indictment for engaging in fraud, waste and abuse and public corruption, involving a a no-bid Pay to Play contract scheme with LA Metro where her organization received $800,000 for a sexual assault hotline that was virtually never used.
The three-year long investigation overseen by former Undersheriff Tim Murakami, Homeland Security, and the California Attorney General's office yielded enough evidence to result in raids at the homes of Giggans, Kuehl and LA Metro Headquarters on September 14th, 2022.
The Current Report was the only media present in front L.A. Metro Headquarters as the warrants were being served and deputies entered the building just shortly after 7:00 a.m.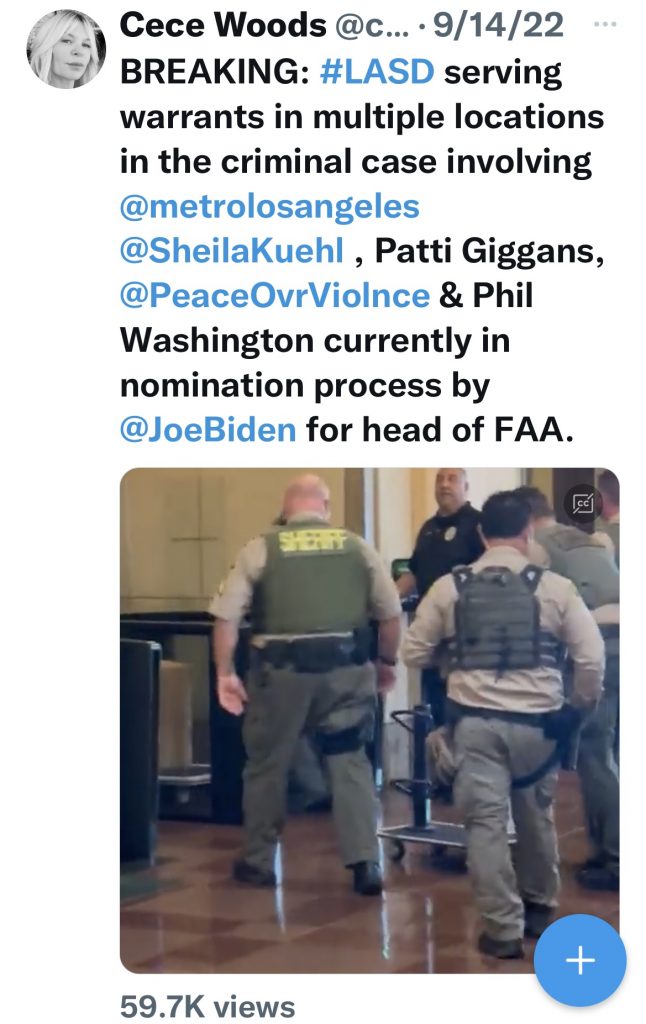 While mainstream media pushed the vendetta narrative highlighting the contentious relationship between Sheriff (at the time) Alex Villanueva and the Board of Supervisors, namely Sheila Kuehl (who left the Board in December, 2022), the criminal investigation was based on thousands of documents reviewed by The Current Report dating back to hotline scandal in 2020.
Kuehl painted a different picture to reporters outside her home on the morning of the raids "It's kind of like the Sheriff has sworn to get his enemies. He said he is going to open an investigation in to everybody… a criminal investigation in to those of us who have been critical of him… but he never did… there is no investigation… so this is all bogus and harassment" she said.
The political entanglements, specifically the ones involving those named in the warrants that made national news on September 14th, reach far beyond the the scope of Pay-to-Play, fraud, waste and abuse and while Kuehl, Giggans and Washington use smoke and mirrors to distract from the truth, you can guarantee that smoke you're seeing is actually a raging fire.
On March 1st, 2023, Senator Ted Cruz went on record at not one, but two Senate hearings to specifically talk about the criminal case mentioning Peace Over Violence by name along with the status of the case.
Senator Cruz said the following:
"…You are the first nominee I can recall that is currently entangled an on-going public corruption investigation, right now, while your nomination is pending. This investigation involves an alleged Pay to Play contacting scheme that resulted in LA Metro giving $800,000 in no-bid contracts to a politically connected charity called Peace Over Violence, or "POV" to run a sexual harassment hotline that was hardly ever used. A whistleblower has alleged among other things when you were the CEO at LA Metro, you pushed forward these questionable contracts order to stay in the good graces of a powerful politician on the LA Metro Board… a witness stated…'Although there was legitimate was no legitimate reason for LA Metro to outsource such a service to POV in a sole source contract, the contract was pushed forward by CEO Phillip Washington in order to remain in good graces with Supervisor Sheila Kuehl'… Sheila Kuehl is a powerful politician on LA Metro's Board who is long time friends with the head of POV. The California Attorney General's office in now leading the investigation into this public corruption scheme… The California Attorney General's office said 'There is an on-going criminal investigation into this matter'…and 'the investigation is months away from being completed.' "
The takeaway from Senator Ted Cruz's conversation with California Attorney General Rob Bonta's office seem to be in stark contrast to the sentiments of local and state officials.
When local officials were asked about Giggan's status with respect to her position on the Citizen's Oversight Commission while under investigation for Public Corruption and the fact that it has received national attention at the Senate hearings this month, I got crickets. As in completely dismissing it, and/or defending Giggans position on the commission.
I reached out to inspector General Max Huntsman to comment on Giggans position on the commission.

Shortly after the raid on Giggan's and Kuehl's homes, Giggan's released this statement on the Peace Over Violence website:
"On the morning of Wednesday, Sept. 14, a search warrant from the Los Angeles County Sheriff was executed at the headquarters of Peace Over Violence and the home of Patti Giggans, our Executive Director and Commissioner on the LA County Sheriff's Civilian Oversight Commission (COC). The Sheriff removed items including desktop computers, our agency server, and Patti's personal vehicle.Simultaneously, they also raided the home of LA County Supervisor Sheila Kuehl, her offices at the Hall of Administration, and the LA Metro offices.
These actions are intended to disrupt Peace Over Violence and silence Patti Giggans and are due to the Sheriff's ongoing personal political vendettas that have transpired publicly. Clearly, these bullying tactics are meant to intimidate anyone who has criticism of the Sheriff. We reject the attempt to defame the organization, its programming and values, its integrity and the integrity of its Executive Director/CEO. 
Peace Over Violence and its Executive Director Patti Giggans are nationally recognized leaders in sexual and domestic violence with a reputation for providing responsive, quality services to survivors. We have partnered with law enforcement and government institutions for more than 51 years to fill the gaps that exist in supporting survivors including operating the nation's first and longest running sexual assault and domestic violence hotline. Our hotlines are supported in part by government contracts, grants, and other donations. Our government contracts have all been fairly granted and followed the rules and protocols of the awarding agency.
Despite this event, Peace Over Violence remains committed to the work of providing a safe place, listening ear, and trauma informed wraparound services to individuals and families impacted by sexual and domestic violence in Los Angeles County."
Giggans involvement in an on-going political corruption probe, initiated by the Los Angeles County Sheriff's Department are not the only legal issues which severely impact her credibility and ability to fairly hold the Los Angeles County Sheriff's Department accountable, to higher standards and oversee reform.
Six months after Giggans declared the probe was a personal vendetta executed by the former Sheriff, the investigation is still on-going with months to go until its completion per the Attorney General's office.
In her attempt to deflect attention from the criminal investigation, Giggans in her public statement on her website stated "We reject the attempt to defame the organization, its programming and values, its integrity and the integrity of its Executive Director/CEO." when in fact that is what she and Supervisor Kuehl engaged in make false allegations the criminal case was the result of a disgruntled former Metro employee.
Additionally, reporter Laura Nelson reported on an "extensive review" her employer, The LA Times Times did on the case:
"A Times review of the case is based on testimony of just one person, a former Metro employee named Jennifer Loew, who brought her bribery complaint to at four law enforcement agencies, but found a receptive audience only at the Sheriff's Department. The Times found no evidence to support Loew's allegation".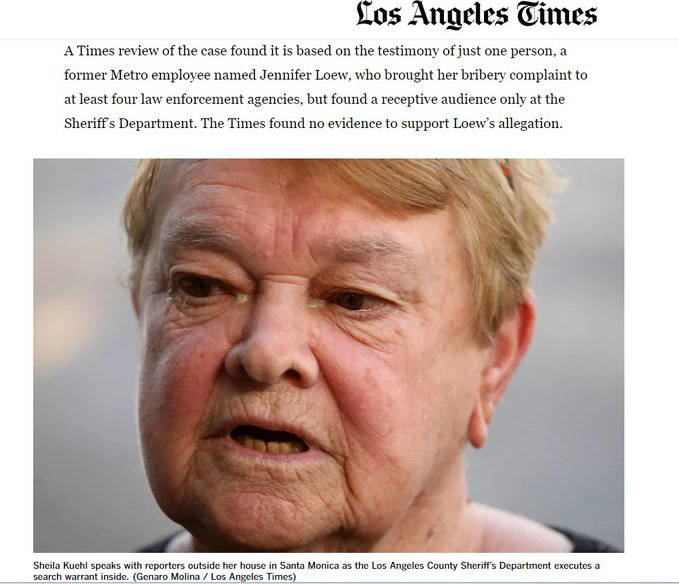 Well, the California Attorney General's office did and more than six months after the case was transferred to their office, it is still under investigation with "many more months" to go. Evidence of former LA Metro CEO Phillip Washington's 'material involvement' in the case and potential indictment led to public pressure from the Senate (along with his lack of aviation experience) leading him to withdraw his nomination to head the FAA over the weekend.
On January 26th, 2023, whistleblower Jennifer Loew, former Special Projects manager under disgraced former CEO Washington, the "disgruntled LA Metro employee" Giggans and Kuehl referred to in their public statements and the LA Times defamed in their story, filed a $5 million defamation suit in Superior Court of CA.
The complaint details the defamatory statements made by Peace Over Violence CEO Patricia Giggans and Peace Over Violence Advisory Board Member Sheila Kuehl.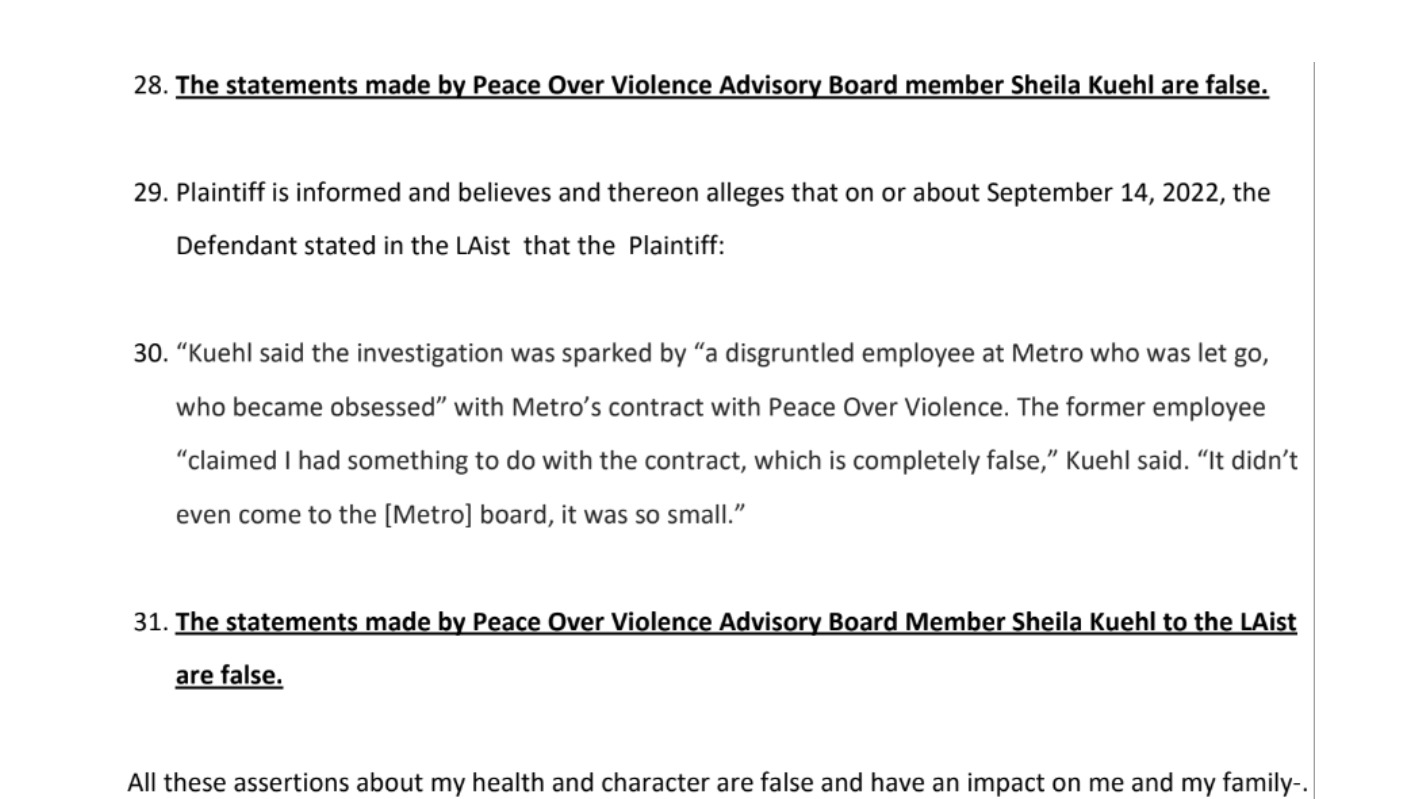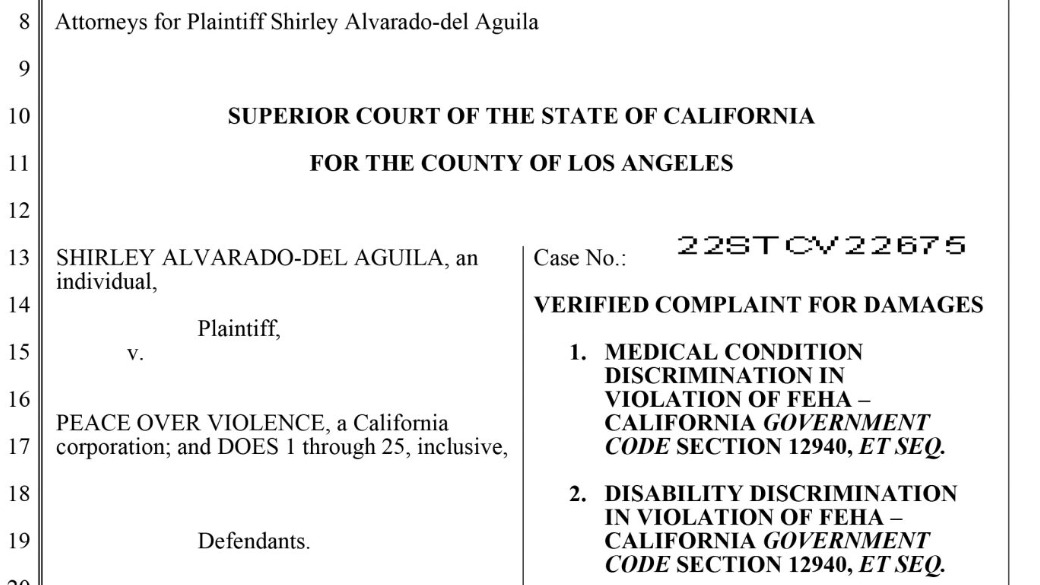 Unfortunately, newly-elected Sheriff Luna could potentially thwart future progress in investigating the political powers that be as he was unanimously endorsed by the Board – and with those endorsements comes loyalty.
"I have enormous respect for Supervisors Barger, Hahn, Kuehl, Mitchell and Solis and their work to govern our County and empower our communities, and their endorsements are very humbling and important to me," said Chief Luna. "Their unity in supporting my candidacy is a powerful vote of confidence in my ability to provide new leadership for the Sheriff's Department. If elected, I very much look forward to working closely with each Supervisor and their staff, to be accountable, to hear and address the concerns of LA County residents, to keep our communities safe and to ensure our law enforcement service is constitutional."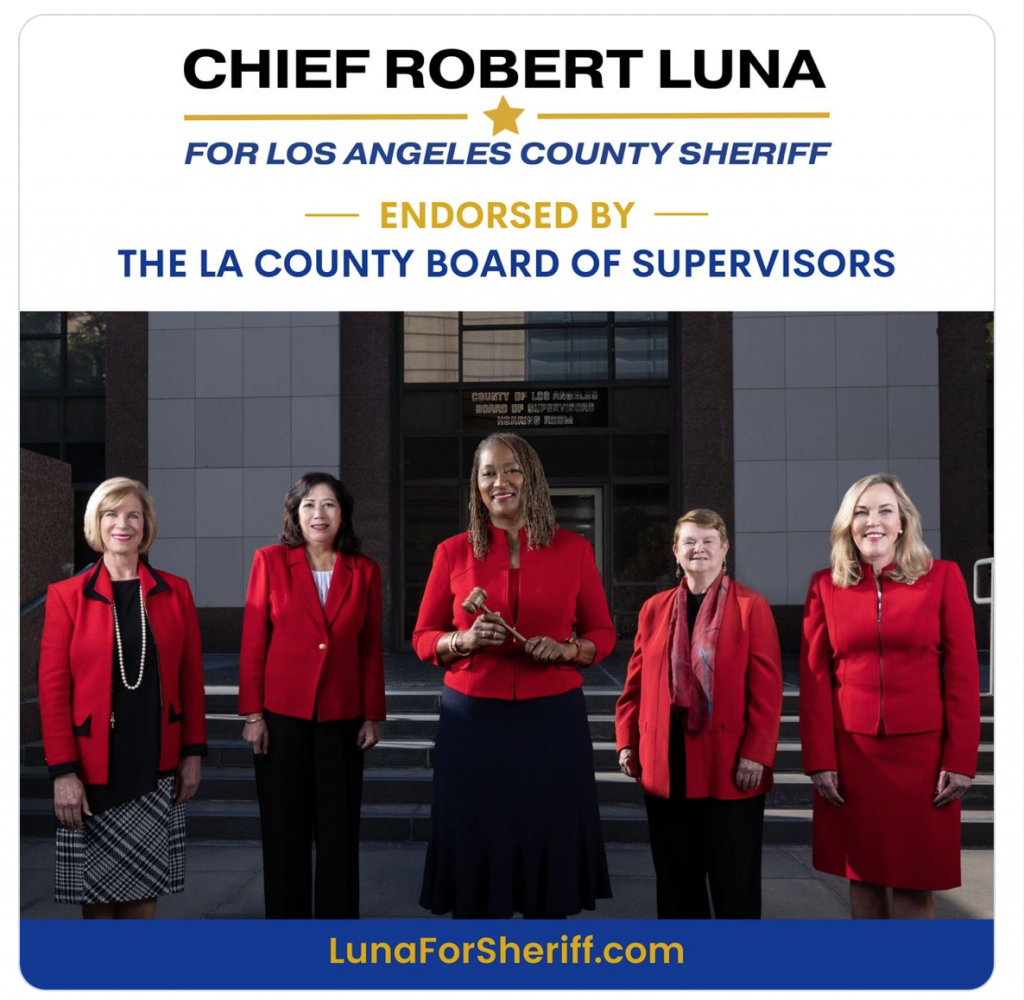 Luna's willingness to be held accountable by the Board overshadows his unwillingness to hold Supervisors to the same standards, if not higher than his own which, judging by the mountains of lawsuits, discrimination, homeless issues and more that plagued Luna as Chief of Long Beach Police Department, the bar has been set very, very low.
It is of event greater concern that Los Angeles District Attorney George Gascon has partnered with Peace Over Violence for events while there is an active public corruption investigation under way. Gascon made it very clear in 2022 when the Criminal case was brought to him that he had no intentions of prosecuting the case.
At this point, judging by the overwhelming amount of players involved in LA County political back-scratching, our only hope is the CA Attorney General and the Feds come out with bigger claws.