While Huntington Beach continues to remain open to surfers during the Coronavirus shutdown, L.A. County beaches are closed "until further notice" Sheriff Alex Villanueva tells The Current Report.
Editor's Note: Ventura County Mayor Matt LaVere released a statement yesterday that Ventura park and beach facilities were re-opened as of 5:00pm April 18th. The City of Ventura will also follow the guidance of County public health professionals and will re-open its parks and beaches as well. City of Ventura parks and beaches will officially be re-opened Monday night after the City Council authorizes this new order at a special city council meeting. Both the County and City of Ventura have decided to keep playgrounds, parking lots and restrooms closed.
The very first weekend of the Covid-19 shutdown proved more extreme measures were needed to ensure people would adhere to the protective mandates put in place by lawmakers to stop the spread of the Coronavirus.
Scores of people flocked to southland beaches as if it was a normal spring break vacation day. The social media posts showing crowds at tourist destinations caused a tremendous stir calling out city and state officials demanding action.
After seeing the disturbing images of crowds gathering at the Malibu Pier and southland beaches violating state and county protective measures senator Henry Stern addressed his disappointment in the public on social media. In his post, the Senator hinted at the potential closures of recreational outdoor spaces as a result of the public's blatant disregard for public safety.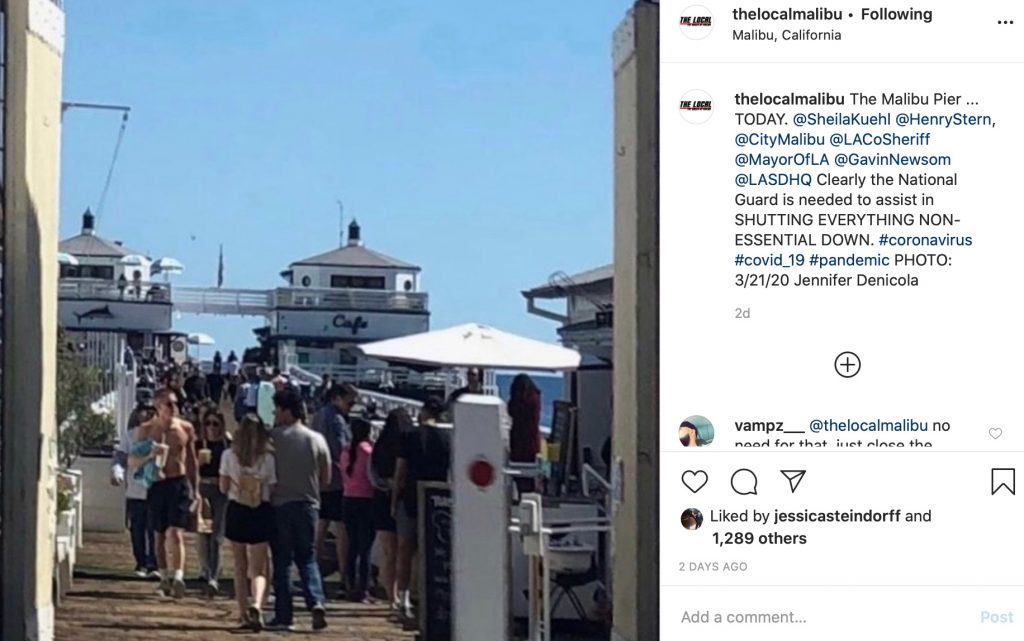 Immediately after the weekend's events, officials responded by ordering all L.A. County beach parking lots closed. The Current Report met with LASD/Lost Hills Station Acting Captain Chuck Becerra as he was giving the orders to his deputies to close parking lots immediately until further notice.
On April 2, LASD deputies patrolling the popular Surfrider Beach surf break in Malibu cited one surfer and arrested a paddle boarder. Both individuals refused to leave the beach as directed by deputies.
The paddle boarder, from Pacific Palisades, made headlines when he ignored L.A. County Lifeguards demands to exit the ocean and remained in the water for approximately 30-40 minutes. A Sheriff's Department boat was brought in from Marina Del Rey Station to assist, and once the Sheriff's boat arrived on scene, the suspect then complied and swam to shore. The suspect was arrested for disobeying a Lifeguard 17.12.115 LACC and Violation of Government Code 8665. He was booked at the Lost Hills station and subsequently released with a promise to appear in court. According to our sources, the suspect told officers his actions would now earn him"street cred" and was allegedly unfazed by his actions that carry stiff legal penalties resulting from the Stay at Home order on March 19th by Governor Newsom in response to the rapidly growing Covid-19 virus.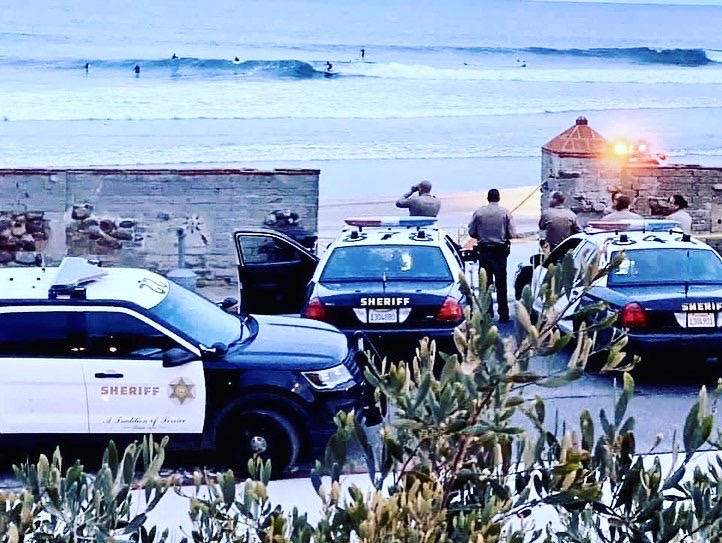 On April 5th, just days after the paddle boarder was arrested and one surfer was cited at Malibu's First Point, "Surfing is not a crime" was spray painted on the famous Surfrider wall. The graffiti has since been removed.
While a few beaches in Orange County have been closed, including all of Laguna Beach's and the Wedge in Newport Beach, Huntington State Beach remains open, and continues to attract crowds. Yesterday, a large group gathered near the Huntington Beach Pier, violating protective measures to protest the shutdown. To date, Orange County has the highest number of reported cases of the Covid-19 virus.
Law Enforcement all over Southern California are actively issuing citations, including in San Diego County where more than 120 were issued int he last week.
As of Monday, sheriff's deputies across the county had issued 68 citations, San Diego police had issued 47 and Carlsbad police had issued 10 for a total of 125, according to figures provided by each department. The total roughly doubled from a week ago.
In many cases the citations were issued at locations that are closed to the public, including beaches and parks. "Officers either saw the people walk past and around barricades or people admitted to knowing the beach was closed,"  a law enforcement spokesperson said.
"We are grateful that the overwhelming majority of the community has been acting in compliance with the orders. We understand that this is a difficult time and that staying at home is essential, but not necessarily easy," said the police spokesperson,  "We are still wanting compliance through awareness at our trails, parks and beaches but we are citing when necessary."
The citations are subject to misdemeanor charges that carry potential fines of up to $1,000, up to six months of jail time or both.
Santa Cruz Parks, seemingly more relaxed on protective measures to stop the spread of the virus than other coastal areas in the state, reopened beaches and trails Thursday after only a week  of strict closures, and a countywide ban on surfing.
The temporary prohibition on use of recreational spaces took effect April 9 at the order of Santa Cruz County Health Officer Dr. Gail Newel. It expired midnight Wednesday, leaving residents once again able to surf and exercise on beaches, West Cliff and in most area parks.
Citations issued by area law enforcement shot up while the order was in effect, with at least 249 fines handed out over the weeklong period for violating the closures or other shelter-in-place rules.
As new signs began to surface at Westward Beach in Malibu displaying a June 1st expiration date, The Current Report reach out yesterday to L.A. County Sheriff Alex Villanueva for an update on the closure of L.A. County Beaches who offered the beaches would be closed "until further notice" confirming L.A. County is committed to ensuring public safety until the virus is no longer a serious threat to the public.