Two L.A. County deputy Sheriffs are currently under investigation after they threatened a black man with "getting one in the chest" in South L.A. on New Year's Eve.
The deputies approached a man in a privately owned strip mall parking lot on the 14900 block of Crenshaw Boulevard. The man identified himself on social media as rapper Feezy Lebron, who was live streaming when deputies approached his vehicle on December 31st at approximately 5:45 p.m.
Body camera footage released by the department showed LeBron with his hands raised, confused, asking the deputies multiple times if he was under arrest and questioning their demands to exit his vehicle. "Get out for what?" Lebron said. "Am I under arrest?"
It is unclear what initially motivated South L.A. deputy Jacob Ruiz to approach and subsequently enter LeBron's vehicle.
After what is assumed to be a short exchange, deputy Justin Sabatine approached demanding Lebron exit the vehicle initially threatening him with pepper spray.
Shortly after, Sabatine escalates the engagement with LeBron now pointing a gun at him.
"Take off in this car and I'm gonna shoot you," Sabatine warns. "I'm gonna make it super easy on you: if you put this car in drive, you're getting one right to the chest."
However; Lebron appears visible shocked by the encounter as his vehicle was in the off position the entire time and his hands in the air as instructed, yet Sabatine continues to threaten him.
"I don't care if you got bullshit on you, but guess what, bro, now you got to deal with it," Sabatine continues. "But if you pull some bullshit, you're going to take one to the chest."
Lebron uploaded audio of Sabatine threatening to shoot him, unprovoked, to TikTok, where it went viral. The incident, according to Lebron who was handcuffed and detained, lasted in total about an hour.
The seemingly unwarranted and potentially illegal search of Lebron's vehicle yielded only a previously issued fix-it ticket for a missing front license plate of which resulted in an additional ticket issued by the deputies after which LeBron was released.
Shortly after the incident, Lebron went to the station to file a complaint where Sabatine was photographed  mocking Lebron.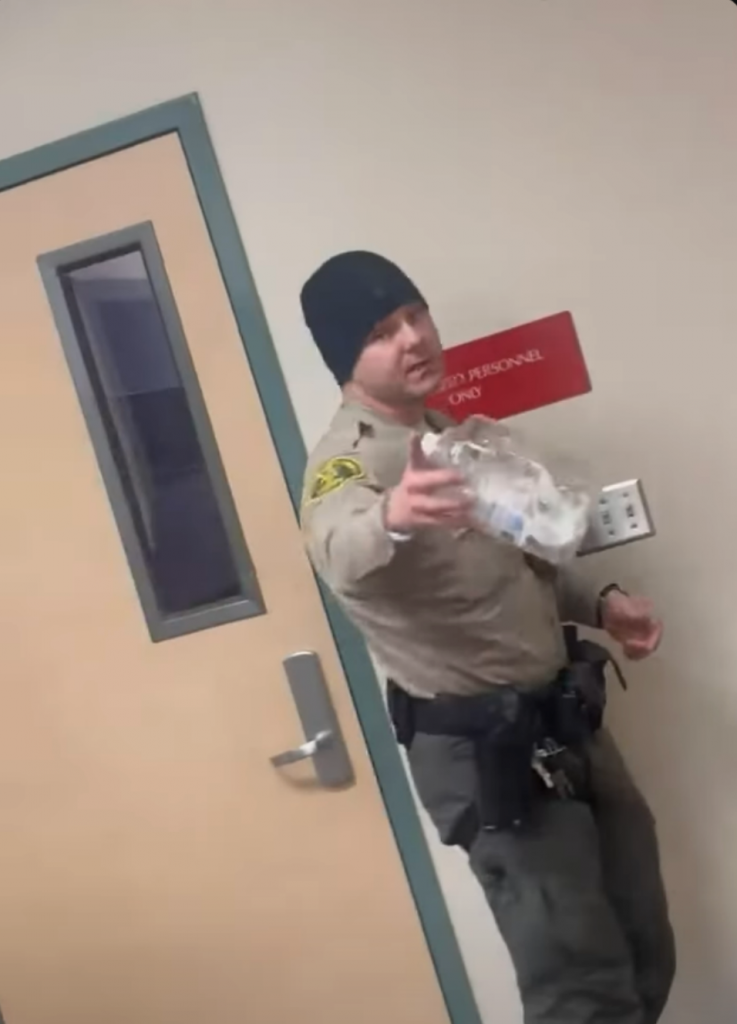 Inside sources at the LASD tell The Current Report Sabatine has alleged ties to the Grim Reapers deputy gang, which includes a close relative still active in the department on Special Teams and according to sources inside the department, Sabatine is known as a "shot caller"at the South LA station.
Shot Caller's are recognized as LASD gang members who can wield power and control over scheduling and work flow, including how and when deputies respond to incidents and can outrank commanding officers at the station.
Sabatine, joined the department in 2015 after graduating with honors from CSUN. Sabatine's lineage at the department includes his grandfather Cecil Sabatine who passed in 2021 and his father, retired detective Ronald Martine Sabatine.
On September 2, 2022, Sabatine and deputy Meshawn Telemaque responded to the 1800 block of West 108th Street to a "person with a gun" call.  The caller stated a male was standing in front of the location and was under the influence of alcohol or drugs flashing a gun.
The deputies identified the suspect and immediately ordered the male to drop the firearm, but the male pointed the firearm in their direction, and a deputy involved shooting occurred and the suspect was pronounced dead at the scene.
The suspect was later identified as 41-year-old Rushdee Anderson.
The incident was investigated under former Sheriff Alex Villanueva with deputy Sabatine presumably cleared as he returned to duty.
This is reportedly the first incident involving deputy gang ties under new Sheriff Robert Luna who, after running on a platform that included eradicating deputy gangs, made this lukewarm statement about one of the first known incidents under his watch:
"Sheriff [Robert] Luna has made it clear that he expects department personnel to treat all members of the public with dignity and respect, and that personnel who do not uphold our training standards will be held accountable," the Los Angeles County Sheriff's Department said in a statement announcing the probe into the "actions and language" of Sabatine and Ruiz.