A Former LA County Sheriff's Department Chief and second in command of New York City Corrections Department, Joseph Dempsey, resigned February 3rd according to sources while under investigation following a sexual harassment complaint.
Hand-picked by Correction Commissioner Louis Molina and just three months into his tenure, Dempsey is accused of allegedly texting a sexually explicit picture to a male Correction Department employee.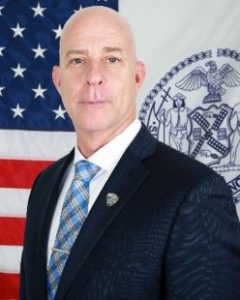 Dempsey was with the LASD for more than three decades,  joining the Department as a deputy in 1988.
According to sources at LASD, during his time on patrol at the Carson station, Dempsey was married with kids and was referred to (by his colleagues) as part of the "God Squad". In the mid-90s, sources say Dempsey traded the "God Squad" for the "Gay Squad" coming out as a homosexual. Shortly thereafter, Dempsey allegedly curried favor with UnderSheriff Paul Tanaka's crew, becoming an integral part of that scene, "riding in the car" with Tanaka (considered a privilege).
Dempsey was also known a "favorite" of former Assistant Sheriff Terry McDonnell, a woman, who was also gay. According to sources inside the Department, "Dempsey could do no wrong" in her eyes.
Dempsey rose to the rank of Commander in 2017 where he oversaw the Twin Towers Mental Health Jail and Over Budget and Training for the Division. In 2019, Dempsey was promoted to Chief of the Custody Division where  he was in charge of three jail facilities, the daily operations for the 2,500 employees in the system and ensured compliance with federal mandates. Dempsey is credited with spearheading new policies and procedures to address the needs of mentally ill people in custody which, according to official reports, the jail saw a ten-percent decline in use-of-force incidents under his command. Dempsey left the Department in March, 2021.
Contrary to the incident that forced Dempsey's resignation in NYC, sources at LASD say Dempsey was known as a "strict disciplinarian who held people accountable around him including for sexual harassment in the workplace". In the same breath, sources say he was also known as "arrogant" to which many at the department are ultimately not surprised by the allegations and subsequent resignation from NYC Corrections.
"Rules for the, not for me" said a former colleague.
Sources at LASD told The Current Report Dempsey's reputation as a sexual predator, allegedly targeting younger males, was well known throughout the Department.
The NYC corrections employee's lawyer, Sarena Townsend, declined to discuss the allegations according to NY Daily News, but issued a statement.
"It is appalling that my client should face sexual harassment of this nature by Commissioner Molina's hand-picked senior deputy commissioner," said Townsend, a former Correction Department head of trials and investigations who Molina fired a year ago. My client, who never asked to be in this position, was not only mortified by the harassment of such a prominent figure at DOC, but now, because of DOC's rumor-mill culture, will be subjected to public humiliation and retaliation."