You know it's officially campaign season when the first candidate out of the gate in the 2022 Sheriff's election delivers not one, but two "holy sh*t, this is what we get to look forward to?" moments just days after announcing his candidacy.
On May 1st, in our  Sunday Evening Edition of The Current Report, we reported (after doing just a few minutes of homework), that Candidate Vera has an interesting collection of uh-oh-factor civil suits playing both sides of the fence, defendant and plaintiff.
HOW MUCH CLOSET SPACE YOU GOT?
When one considers running for political office, especially a position steeped in controversy with the Defund the Police movement and Black Lives Matter breathing down your neck, one might think twice about 1.) running against your current boss, and 2.) skeletons in your closet.
As we uncovered in civil suit #1, Vera has maxed out at least one closet and might want to consider a bigger house at this point – or perhaps, a different career path.
In 2015, Candidate Vera was named as a defendant, along with his former, no-shortage-of-scandals boss, Sheriff Jim McDonnell, whom we hear is also gearing up to join the 2022 race for Sheriff (FYI – there are skeletons for days with that guy, requiring at minimum, a mansion with lots of walk-in-closet space ).
The allegations were nothing short of what you expect, corruption on the highest level, you know, the usual for this type of environment, yet most certainly not ideal for someone you want running the largest Sheriff's Department in the country.
Shortly after civil suit #1, chock full of troubling allegations with Candidate Vera as the defendant, in a sort of switcheroo, he filed a civil suit. This time as the plaintiff claiming "political retaliation". That suit has been mulling around for a minute in the court system.
Then, in perfectly timed election-fodder (or perhaps a twist of fate), Vera and his attorney, due in court just days after Vera was on the news announcing he was running in the 2022 Sheriff's race, were a no-show at the hearing for their own civil suit.
On Monday, May 3rd, 2021 when 8 a.m. rolled around at the Alhambra Court house, the silence was deafening. In quite possibly one of the most unprofessional first moves you can make as a candidate, Vera and his lawyer just simply… skipped the proceeding.
That's like being a bride, planning your wedding and forgetting to show up!
Who does that?!
Did someone hand Vera a bag of ice suggesting some pre-planned cold feet?
While the judge was none too pleased, L.A. County Council Jennifer Mira Hashmall and Emily A. R. Sanchirico, who are compensated by the taxpayers of L.A. County, were front and center attending the proceedings.
Judge Maureen Duff-Lewis promptly ordered Candidate Vera to show up at the next hearing and attend mediation.
It should be troubling to taxpayers that a candidate for L.A. County Sheriff, who is fresh off of making that stunning announcement he is running against his boss for the top spot at LASD, that he not only filed a frivolous lawsuit after being the defendant (with some pretty impressive allegations) in a previous lawsuit, but he didn't have the integrity to show up to a hearing for his own civil law suit against the people who sign his paycheck?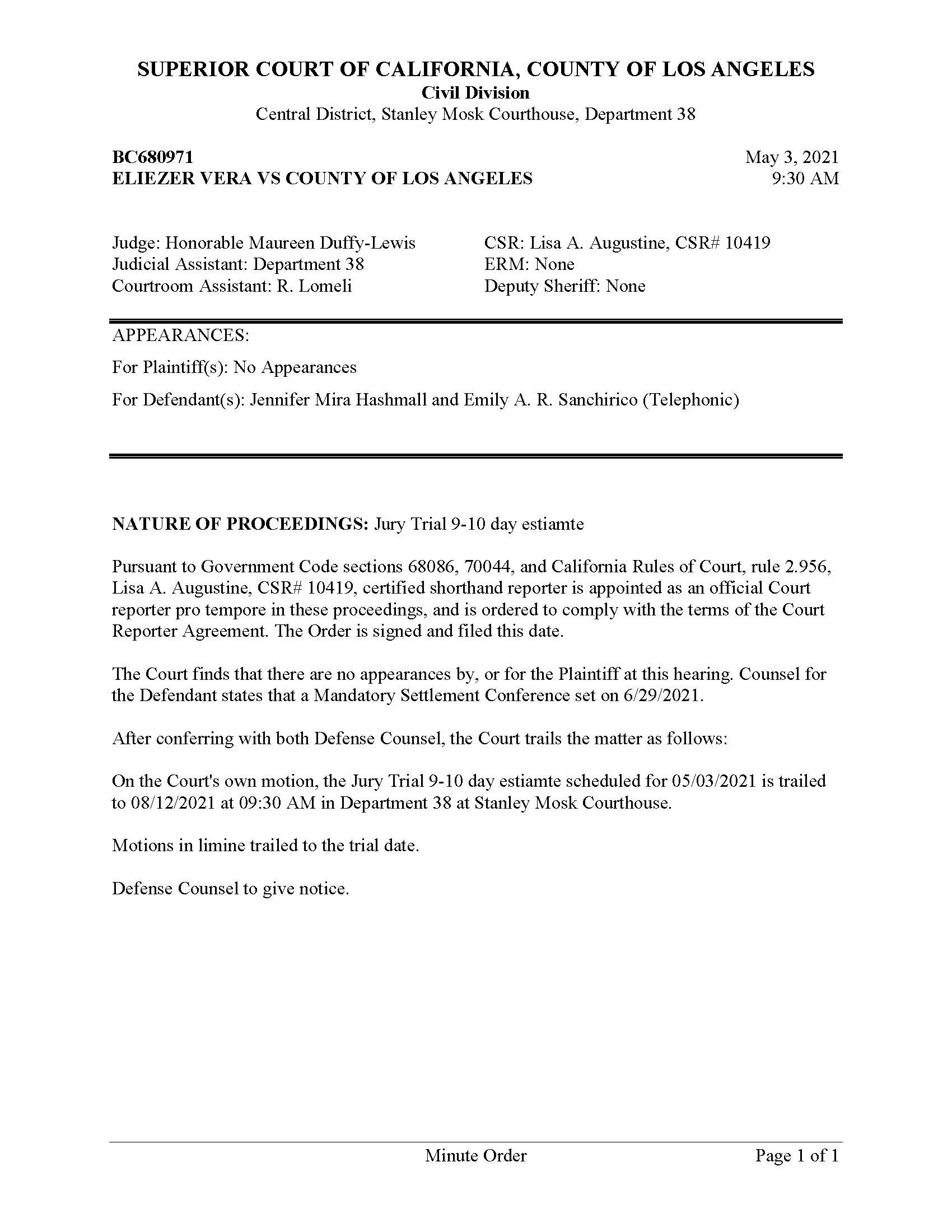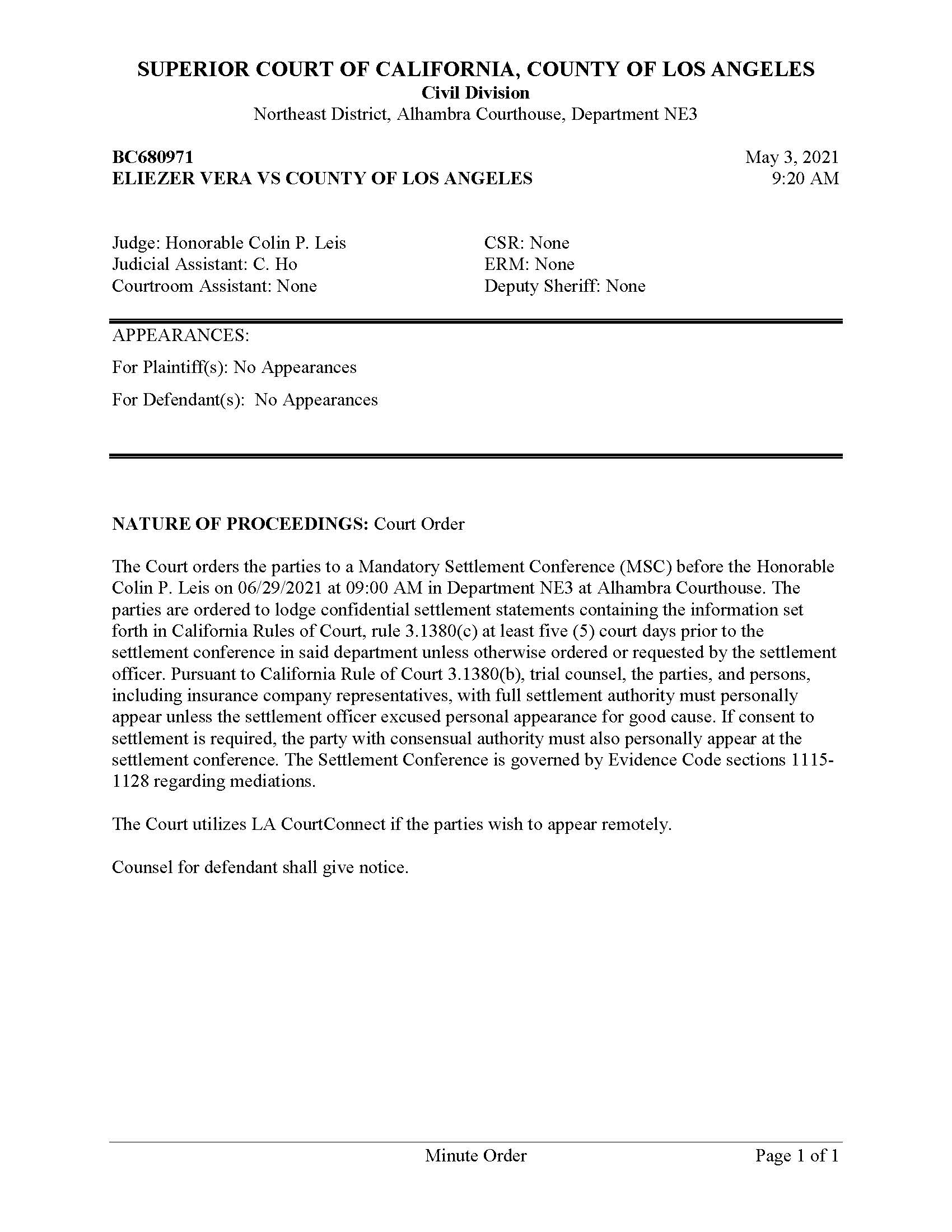 PUT A BOW ON IT
So, to wrap this up, LASD Sheriff Candidate Vera announced he was running for Sheriff of the largest county in California (the size and population of some states mind you), his advisors said "don't worry about the skeletons on your closet, no one will notice" (hoping the Gascon recall drama would suck up that energy) and followed that up by not showing up in court to his own civil lawsuit for "political retaliation" while he is running for an political office.
Head spinning.
You can't make this stuff up. Not even during election season.
The question remains, what's behind his litigation strategy? Is Candidate Vera just looking for an easy payday, or is his involvement in Racketeering and Extortion what truly prevented Vera's career advancement?
THE APPLE AND THE TREE
So far, if you're comparing apples to apples, Vera is an orange – and definitely not the ripe and juicy kind.
What L.A. County residents (and the large majority of people worldwide) experienced in 2020, few leaders can claim they lived through, let alone stepped up to lead.
Sheriff Alex Villanueva navigated a global health crisis, civil uprising during a highly charged political atmosphere, destroyed economy and a jaw-dropping spike in crime.
No other Sheriff before him has had to lead the people during combined chaos of this kind and survived to tell about it when the smoke cleared.
Not to mention, Villanueva transitioned seamlessly from the pandemic to a high profile advocate for victims when District Attorney George Gascon flipped the script on voters, promising reform and instead, delivered directives meant to dismantle the justice system supporting criminals rights over the rights of victims and their families.
Villanueva came out swinging in December 2020, along with another super hero, Deputy District Attorney Jonathan Hatami, the first DDA to speak up against his boss, DA Gascon. With the recall looming against the newly elected DA and the popularity of Hatami with victims and voters who feel duped by Gascon, Villanueva and Hatami stand to be the future Dynamic Duo to work hand in hand leading – and re-structuring – public safety in L.A. County.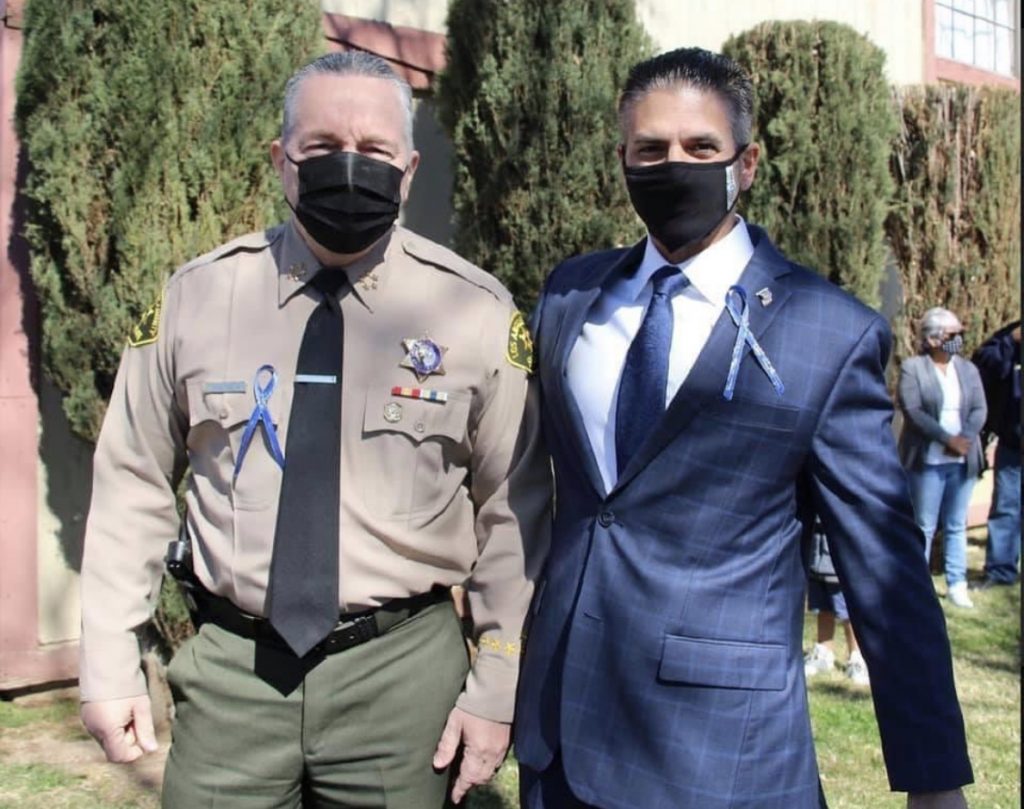 The relationship between the DA and the Sheriff's Department in the past has been either strained or corrupt – or both – depending on which era, but now, with this high profile batman-and-robin-style political partnership, it looks the Villanueva-Hatami combo could be the best thing that has happened to LA County in a long time.
In the 2018 race, Villanueva was a relative unknown, with virtually no funding, pulling off the biggest upset in department history beating incumbent Jim McDonnell – who dug a huge hole for himself not even his political war chest could buy him out of.
While Villanueva may not be perfect in the eyes of some (after all, who is?), he is the best Sheriff this county has ever seen, with a history of leading during a time no other candidate will see in our lifetime.