UPDATE 9/27/2020 5;27 p.m.: Merritt siblings were found and are safe.
Three siblings from Brooklyn, New York who made a cross country trip together vanished near Joshua Tree National Park family members tell The Current Report.
The last known communication from one of the three siblings was on September 25th, 2020 at 5:36 p.m.
Adam Merritt, 41 made plans to move to California and his siblings Nick, 43 and Staci-Lynn, 28, decided to turn the opportunity into a family road trip. The three wanted to enjoy nature and family time before Adam settled into his new place in Los Angeles.
When the siblings did not show up in Los Angeles, the family became worried and began to track their cell phones in hopes of locating them.
A friend of the Merritts went to the last known GPS coordinates from Adam's phone around 1:30 PM EST. They did not find the car or a phone and indicated that the GPS location was "a weird spot and that if the phone was there then it was probably thrown out of a window".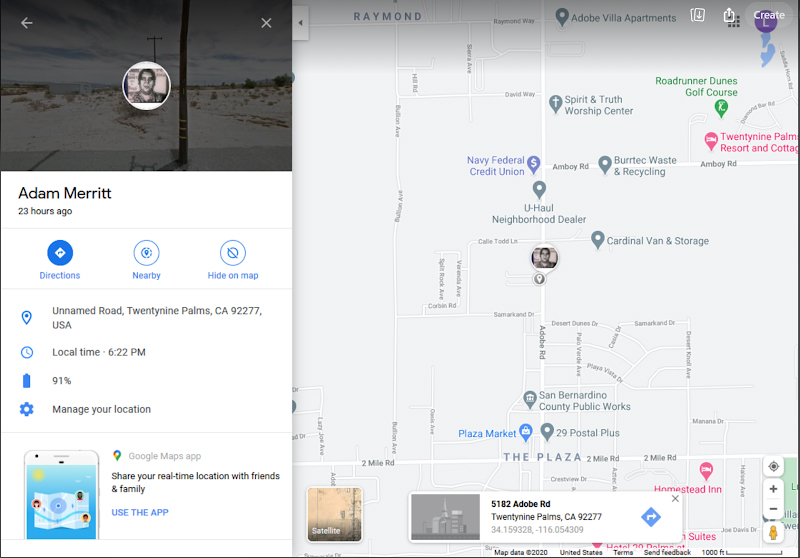 On Friday, September 25th, the family notified San Bernardino Sheriff's Department. A patrol car investigated to the last known GPS location on Adam's and noted "nothing suspicious" telling the family there was "nothing more that they could do".
A resident of an apartment complex nearby found a piece of a cell phone on 9/27/2020. The family is currently tracking down the information on the serial number to match it to one of the missing siblings.
The last known phone call was made from Adam's phone to his new landlord on September 24th at 5:36 p.m. and a text following that said "expected to arrive LA 9 PM".
According to the family, this is the current status of the Merritt siblings cell phones as of press time:
Nick's phone is going straight to voicemail, not ringing.
Adam's phone was ringing and then going to voicemail until 8:30 PM on 9/26/2020 (last known ping). Now the phone is going straight to voicemail. They don't think the phone died. Luci (mother of children) noted the battery had 91% life when it was turned off at 8:30PM EST on 9/26/2020 (after reviewing phone records).
Staci-Lynn's phone is going straight to voicemail and not ringing.
The following flyer is being distributed on social media.
Adam Merritt's last known GPS location was outside Joshua Tree National Park on 9/26/2020 at 8:30 p.m  A report was filed with Joshua Tree National Park, case number: JTP14449
The Merritt siblings were traveling in a Teal Subaru wagon, plates not known.
If you have any information, please contact 919-951-5607.