As California officials scramble to contain the spread of the novel coronavirus in prisons, outbreaks have flared up at two crowded California prisons, confirming the worst fears of prisoner families and advocates — and adding fuel to a growing federal court fight over the state prison system's response to the pandemic.
Statewide, 115 inmates and 89 corrections employees have tested positive for the coronavirus and state prisons are already overcrowded with prisoners sharing close quarters.
Meanwhile, L.A. County Sheriff Alex Villanueva has faced heavy scrutiny for releasing low level criminals with sentences of 30 days or less to relieve overcrowding in the jails, described as a "tinderbox of potential infection."  by Scott Kernan, former secretary, California Department of Corrections and Rehabilitation.
Fears of an uptick in crime due to the release of the low level criminals from over populated prisons  in L.A. County so far have been unfounded. Sheriff Villanueva told FOX 11 that LASD was the first Sheriff's department in the country to begin the early release of inmates, which they began on February 28th. LASD focused on releasing nonviolent criminals in pre-trial detention, or those who were about to finish their sentences within 30 to 60 days. The most violent are still locked up behind bars with the remaining 75% of the jail population.
On Monday, Sheriff Villanueva released crime statistics through April 18th: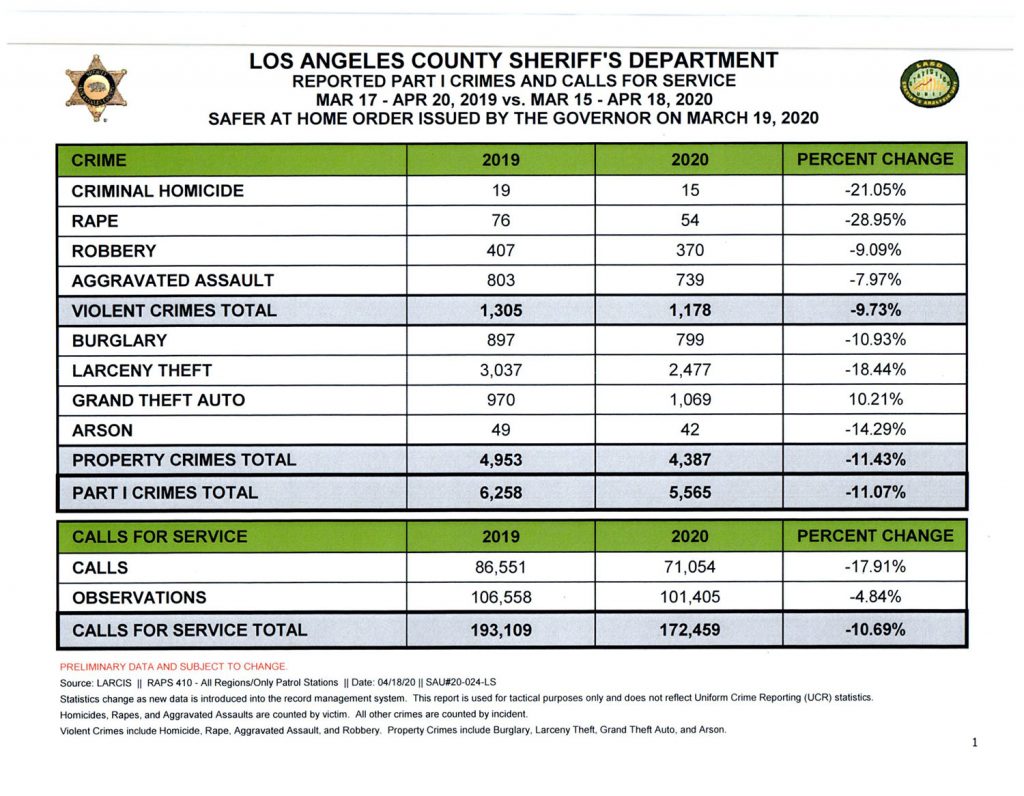 One statistic that has risen as expected was domestic violence, which rose by 8.37 percent since the COVID-19 shutdown began. However, the Sheriff's Department remains vigilant in pursuing abusers and keeping felons locked up behind bars.
Recently, the Lost Hills Sheriff's Station responded to a domestic violence call arresting the suspect for assault. After the suspect bonded out, he assaulted the victim a second time. Lost Hills deputies were able to apprehend the suspect after the second offense, and the judge to set bail at $1 million dollars to guarantee the victim's safety. The suspect currently remains behind bars.
Despite stats showing that violent crime has been down across the board recently, the Sheriff said he fears it may not stay that way for long "We just have to be hyper-vigilant because that pendulum can eventually swing in the opposite direction…"
However, Villanueva told The Current Report criminals who think the pandemic is a prime time to prey on the vulnerable better think twice. LASD is currently on full deployment and more manpower is on the street "If you commit a felony, you are going to jail".
Follow our breaking news coverage on Twitter.