The filing period to be on the March 2024 ballot for Los Angeles District Attorney officially starts today, ending on  December 8th.
Many have announced their candidacy, including four deputy district attorneys — prosecutors who currently serve under Gascon: Jonathan Hatami, Maria Ramirez, John McKinney, and Eric Siddall.
Additionally, two federal prosecutors are also running: Jeff Chemerinsky and Nathan Hochman and two LA Superior Court Judges are running: Debra Archuleta and Craig Mitchell, who also made a name for himself by founding the "Skid Row Running Club."
A retired judge, David Milton, is also running and now begins the time for these candidates to make it official.
LA voters will have their say on the next district attorney to make it to the November ballot in March 2024 primary should George Gascon not meet the 51% threshold.
A potential reality as evidenced by polling earlier this year and recent votes by at least two Southern California Democratic clubs (so far), failing to endorse Gascon as they did in 2020.
THE POWER OF THE SUPER PAC
To add to the political heat Gascon is facing, in the last few days, a PAC (Political Action Committee) has emerged to support Deputy District Attorney Jonathan Hatami who announced his candidacy earlier this year. A much needed shot in the arm to potentially unseat the incumbent Soros-backed DA.
The Super PAC known as "Hatami for Los Angeles County DA to Protect Our Children; Independent Committee in Support of Jonathan" can raise unlimited sums of money from corporations, unions, associations and individuals, then spend unlimited sums to advocate for specifically for Hatami for DA.
Hatami was the first, and has been an on-going vocal opponent of his boss, George Gascon, since the Soros-backed DA announced his pro-criminal directives in December of 2020 shortly after his swearing in.
Since 2021, Gascon has been the subject of two-voter led recalls, the second attempt failing in July of last year by 46,000 signatures to make the ballot.
Were it not for the incompetency of the Registrar County Recorder's office, which is going through the litigation process as we speak, and the greed of the recall campaign organizers who financially benefitted from the campaign, the effort to remove Gascon from office would have been successful.
According to Mike Netter, who helped spearhead the effort to recall Gavin Newsom, the largest volunteer effort in U.S. History, the money was there.
The group raised less than a third of both doomed Gascon recall efforts to get the 1.6 million signatures collected from 58 cities needed to get the Newsom recall to ballot.
In April, a poll taken by UCLA found that just 27% of LA County residents viewed Gascon favorably, and 40% viewed him unfavorably.
ARE DEMOCRATS DUMPING GASCON?
Last week, The Current Report posted the results of the San Pedro Democratic Club's vote failing to endorse Gascon, who was only able to get 36% of the vote, which speaks volumes as to where the Democratic party may be headed, after supporting the pro-criminal DA in 2020.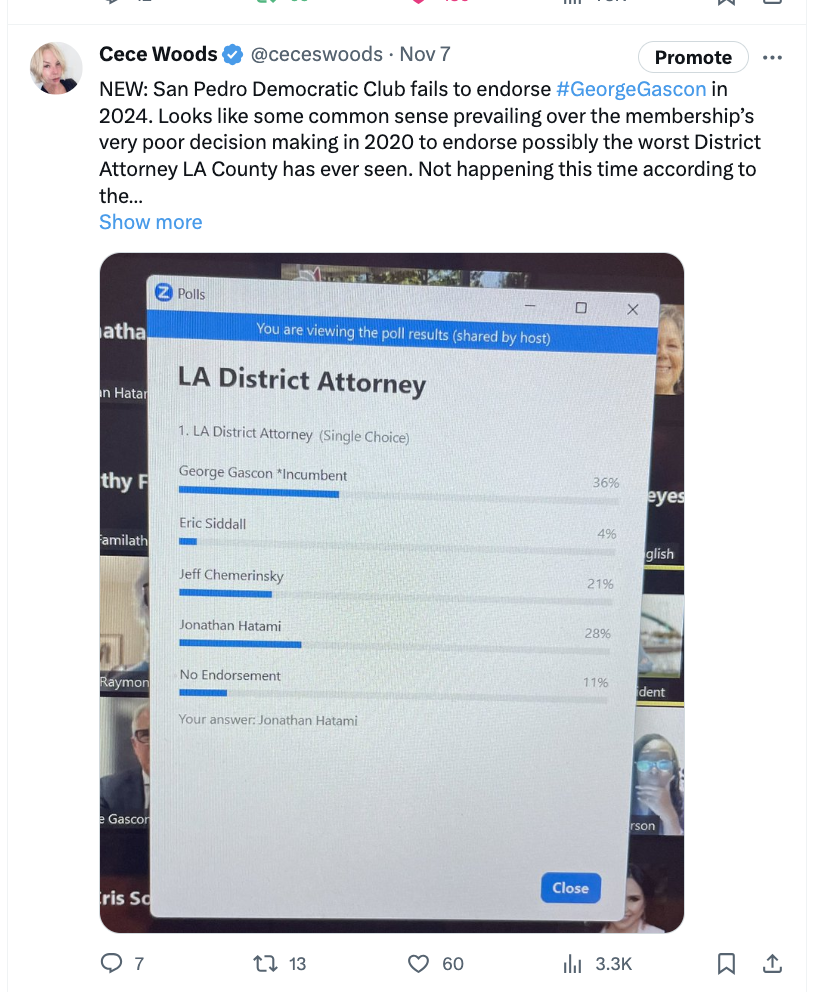 In 2020, after the George Floyd protests sparked the Defund the Police movement, Gascon drove the pro-criminal anti-police bandwagon and pledged to reduce prison sentences and prosecute more police officers for misconduct.
Once Gascon officially took office, he ordered his staff to no longer seek sentencing enhancements, the death penalty, or prosecute juveniles as adults. These reforms sparked a revolt from his rank-and-file, including being sued by the union representing his own prosecutors.
In response to Gascon's reckless disregard for the law, the Association of Deputy District Attorneys filed suit against DA Gascon on December 30th, 2020, alleging that he defied state law and forced rank-and-file prosecutors to violate their oaths of office.
Shortly afterward, the presiding judge, James Chalfant,  granted an injunction against Gascon for refusing to prosecute Three Strikes Law and special circumstances.
Just days after the ruling, on February 10th, 2021 in front of the Hall of Justice, Deputy District Attorney Jonathan Hatami and his attorney Brian Claypool, announced Hatami was filing suit against DA Gascon, his then-spokesperson Max Szabo, and the County for; hostile work environment, discrimination, harassment, infliction of emotional distress and statutory employment violations.
Since then, a domino effect ensued, leading to unprecedented twenty-two deputy district attorneys filing suit (to date) against their boss, George Gascon.
It is safe to assume more is coming in what sources say is an "extremely hostile" work environment at the Los Angeles County District Attorney's office.
One of the largest payouts occurred in March of this year, when veteran L.A. County prosecutor Shawn Randolf, won a sum of $1.5 million after she sued, accusing District Attorney George Gascón of retaliation for complaining about Gascón's directives.
According to sources, most of the current cases against Gascon, including Hatami's case, are on hold, as Gascon and the county secured new legal counsel for what looks to be a costly battle ultimately being paid for by L.A. County taxpayers.
A SERIOUS CONFLICT FOR COPS
Last month, The Current Report revealed an even more alarming component to the degradation of LA County public safety with DA Gascon's influence over LA County Sheriff Robert Luna.
It is evident Luna's handling of the LASD has been impacted by this heretofore relatively unknown relationship with Gascon, leading to the a catastrophic downward spiral of the department in only his first year in office.
Earlier this year, Gascon's office promoted a video proudly announcing in detail the true nature of Gascon and Luna's relationship, a long-standing "mentorship" that spans over 20 years.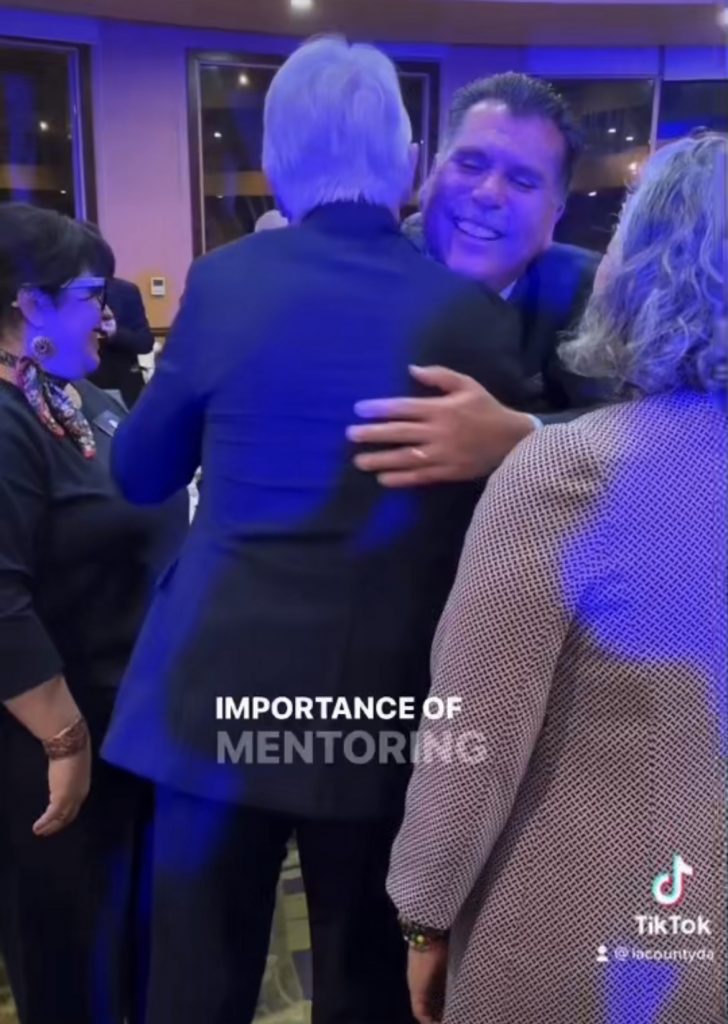 Sheriff Robert Luna thanks DA Gascon in the video for his mentorship, which he believes was an integral part of his journey to becoming LA County Sheriff.
It also explains many of the decisions Luna has made, to the detriment of his rank and file and the protections of the citizens of LA County.
The gross conflict of interest that was never revealed to voters during Luna's 2022 campaign for Sheriff and with DA Gascon's intentional destruction of law and order since he took office could have reasonably lost him the election.
The race to save LA County from a Mad Max criminals-take-all reality takes center stage with the official filing period beginning today.
While many have been campaigning for the coveted spot throughout this year, the filing period will flush out which candidates who will make the final ballot for the March 2024 primary.
By December 8th, voters will know which candidates will go the distance to put and end to Gascon's reign of terror and destruction of a once proud Los Angeles County.