Last week, D.A. George Gascon's newly appointed Special Prosecutor, Lawrence Middleton, got an old-school legal schooling by the presiding judge in a criminal case where Middleton appeared to represent his client, the defendant.
On May 26th, 2021, the Honorable David J. Fields, informed Middleton his appearance in the criminal case, given his new relationship with the District Attorney's office, is "prohibited by law" and "presents an appearance of impropriety and that the dual representation as it relates to his Special Prosecutor position is precluded by law".
A big double-dipping no-no.
Middleton's strategically created position with the D.A.'s office, specifically to prosecute police officers, was designed to appeal the pro-law enforcement defunding voter base. However, a large portion of that base, are also victims of violent crime and have since abandoned him because of his pro-criminals-anti-victims-rights directives.
It seems that Gascon forgot, victims of violent crime, if given a choice, will pick a side when it comes to seeking justice.
Recently, Gascon proved that while he is focusing special attention on members of law enforcement, in the end, those police officers will get the same pro-criminal treatment – including drastically reduced sentences, or no sentencing at all. Additionally, Gascon showed voters he is willing to go the extra mile to push his directives, including filing a brief in Appellate court in support of an appeal filed by a former Torrance Police Officer.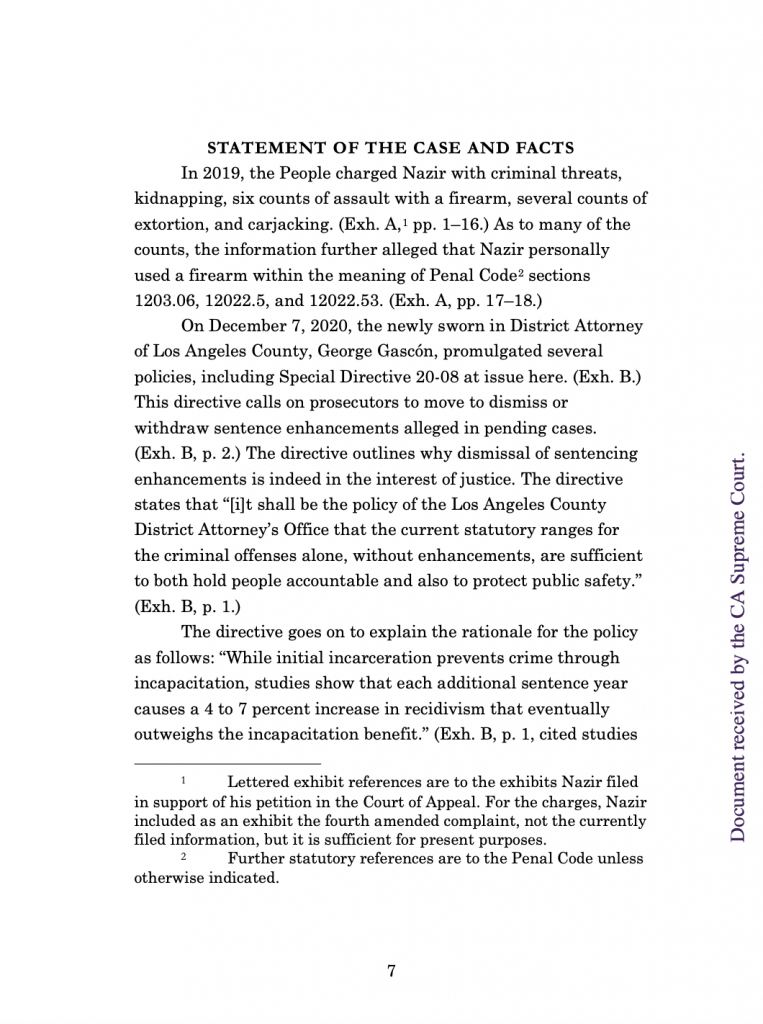 This highly controversial move by the D.A. appointing  Middleton a Special Prosecutor, was also put in place to bypass his own Deputy District Attorneys who are suing him in court for … refusing to follow the law.
The lawsuit filed in Los Angeles County Superior Court, aims to end his mandate to stop seeking prior felony conviction enhancements — including for gun possession, gang membership and violating the "three strikes" law — that lengthen sentences when suspects are convicted. The ADDA argues in the lawsuit that deputy district attorneys cannot follow the directives without violating state penal code.
"The directives violate California law, which imposes a mandatory duty on prosecutors to plead and prove strike priors," the union said in a statement. "Dismissals of those priors can only be based on individual circumstances, not a blanket policy."
Veteran Child Prosecutor Deputy District Attorney Jonathan Hatami, the first to come out against his boss on December 15th, 2021, made this statement in support of Judge Field's ruling:
"Months ago, the L.A. D.A. said hiring a defense attorney to prosecute only police officers would "promote public confidence" in the criminal justice system. 
Yesterday – the Court said WRONG! It would "erode public confidence in the legal system." This is what happens when a person with absolutely no prosecutorial experience becomes the D.A.
Reforms don't mean the mass release of criminals, not following the law, or operating without transparency.  The DA's job is to follow the law.  Not pick and chose which laws to follow. The DA's job is to protect our communities and make them safer. Not release as many inmates as he can."
"You cannot be a prosecutor and a defense attorney at the same time." Hatami continued. " Any experienced D.A. would know this.  Also, giving someone $1.5 million dollars to do a job where we already have prosecutors assigned to do that same job is a slap in the face to all the hardworking Angelenos who are struggling during this pandemic.  This whole thing lacks complete transparency and is not right."
DUGDALE'S DOUBLE DIP DILEMMA
I'm not one to police the guacamole but, I'm pretty sure all this double-dipping at the D.A.'s office started back in February – and at least one month before the Board of Supervisors approved the funding for the Special Prosecutor's position on March 23rd.
Robert Dugdale, who has been representing Gascon in the civil suit against the Deputy District Attorneys since last December and appeared in court on behalf of Gascon on Tuesday May 25th in that case, is also representing L.A. Metro in the motion to quash the criminal warrants case served on L.A. Metro, Supervisor Sheila Kuehl and Chair of the Citizen's Oversight Committee and Peace Over Violence CEO, Patti Giggans, on February 19th.
Pretty spicy stuff, huh?
And the chronology of this double-dipping has a definite corruption sounding crunch to it, so grab a few Doritos and dig in…
December 2020: District Attorney Gascon is sworn in on December 7th, three weeks later is sued by his Deputy District Attorneys and hires  attorney Robert Dugdale to represent him in the civil suit with the Association of Deputy District Attorneys.
February 2020: Attorney Dugdale, is hired by L.A. Metro to quash the warrants in a criminal case against his own client, D.A. Gascon's office. The highly charged political case also includes a member of the Board of Supervisors, Sheila Kuehl (and her BFF, Citizen's Oversight Commission chair Patti Giggans) who approved the funding for the Special Prosecutors position at the request of DA Gascon. The warrants were signed on February 19th.
February 27th, 2021: The D.A. Gascon official recall is launched in front of the Hall of Justice.
March 2021: L.A. Metro warrants were revised and re-served on March 3rd.
March 23rd: D.A. Gascon, steps up his strategy by going to the Board of Supervisors and asks them for $1.5 million to fund a Special Prosecutor to prosecute police officers – sending a message to his voters, specifically the groups pro-defunding of law enforcement – while also delivering a clear message to his own deputy district attorneys (who're suing him for not following the law and intimidating them to do the same).
May 2021: After successfully funding the Special Prosecutor position (again, specifically to *prosecute cops*), DA Gascon, files a brief in support of an appeal filed by the defendant, a former Torrance police officer, after the judge refused to dismiss firearms enhancements and allegations.
In layman's terms, Gascon proved this case was about his agenda and pushing for his directives. Not prosecuting police officers.
On May 26th, Middleton appears in court after his appointment as Special Prosecutor for the D.A.'s office and the Judge in the case promptly informed him it is "unlawful" to play both sides of the fence. You're either a Defense attorney or Prosecutor. You can't be both. Pick a side.
HOLY GUACAMOLE
For more than two years, the L.A. County Sheriff's Department and the LA County District Attorney's Office has been reviewing criminal allegations against LA Metro CEO, Phillip Washington, for public corruption with various political leaders in Los Angeles including LA Mayor Eric Garcetti, LA County Supervisor Shiela Kuehl and LA City Councilman Gill Cedillo (who according to Law Enforcement officials was arrested last year by the FBI in connection with the Huizar and Englander Pay-to-Play arrests).
Given embattled Sheriff Alex Villanueva's on-going beef with the Board of Supervisors, he recused himself from the investigation, with the intention of leaving no room for accusations of improprieties on his part.
However, you know how it goes… the second you're not looking, someone will try ty to stick their fingers in the guacamole.
Sources inside of LASD tell The Current Report there has been quite the drama internally at the Sheriff's Department involving the L.A. Metro case. None that involves the Sheriff personally (that we know of), but we can confirm he has been in behind-the-scenes damage control because of it.
Top brass at LASD, against the advice of County Counsel and the judge who signed the warrants, has refused to execute the warrants and seize the items requested.
After more than two months of missed opportunities and who knows what with all that time on their hands, Dugdale filed a writ in the California Court of Appeals and the warrant is stayed until August due to the filing.
The question of Dugdale's highly inappropriate conflict of interest representing the prosecution and the accused still has yet to be addressed.
As does the reason why top brass at LASD did not execute the warrants.
Head spinning legal improprieties everywhere and yet another clear example of dirty double-dipping as D.A. Gascon gleefully watching that chip going in for another dip.
There goes the guacamole.
*Additional research for this article by Jack London.