Malibu City Councilman Bruce Silverstein expressed concerns recently over Sheriff Villanueva's Homeless sweep in Venice Beach potentially sending them to Malibu – and surrounding areas – where a significant uptick in fires caused by encampments have put the already disaster prone communities from Pacific Palisades to Ventura County Line, at significantly greater risk.
Silverstein reached out to Captain Becerra of the Lost Hills Station to inquire about the risks – and the mitigation in place – to deal with potential rise in homeless in our area directly involved with the LASD sweep on the Venice Boardwalk.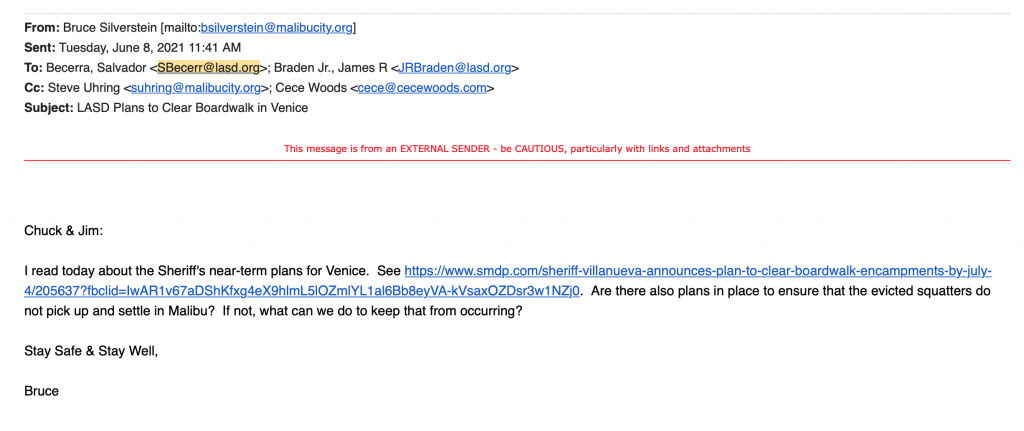 "Much is being said about the potential of yet even more transients migrating to the beaches and community of Malibu.  Let me assure the community that this station is ready and prepared to deal with the influx of humanity." Captain Becerra told The Current Report. "The population in Malibu soars during the summer months to levels that test our limits. A byproduct of this summer phenomena is that this station has been in the practice of bolstering is summer deployment to meet these demands. We will be increasing our staffing levels to meet the new challenges. Your station shepherded this community through a historic pandemic, and this new challenge is no different. Do not fear what "may" be. We are ready."
While the community has the highest level of confidence in the station since it became under the command of Becerra last year ( which has also been scandal free since Sheriff Villanueva appointed him during the pandemic) you cannot always "see" what "may" be.
Multiple transient related fires per month – even weekly at times  –  are currently occurring in our Santa Monica Mountains. The uptick in the transient population due to lack of services, coupled with the on-going drought, make for catastrophic conditions in our disaster-prone communities already – now Sheriff Villanueva's Venice Homeless Sweep will undoubtedly increase that risk – perhaps exponentially.
The Venice boardwalk sweep has an estimated 250 people searching for a new coastal location and with Villanueva's threat to incarcerate those who do not comply, rural coastal areas become more attractive to the unhoused as they have the ability to going virtually undetected due to lack of local, state and government agencies and drastically underfunded law enforcement in county areas thanks to the Board of Supervisors.
Although the City of Malibu is in negotiations to increase patrol levels for the first time in over 15 years. The increase is due to local activism to educate the community which in turn put pressure council to renegotiate their contract with LASD to meet the growing needs of residents – which includes patrols designated solely for the homeless. The increased patrol levels within the city limits will give the deputies the ability to cite, and/or potentially arrest, however, the real issue will be the Los Angeles County District's Attorney whose pro-criminal directives are allowing virtually no consequences for breaking the law, especially for arson and homelessness – both misdemeanors.
What may be "minor" incidents to DA Gascon, currently facing recall because of his "soft on crime" stance, will most certainly be catastrophic to those experiencing homelessness due to a wildfire – especially one that could have been prevented.
Just yesterday, in the midst of the concern of the Venice Sweep, which is mid operation and with a goal of clearing the Boardwalk by July 4th per the Sheriff, Council member Silverstein posted on Facebook about a homeless encampment fire broke in the center of town at Legacy Park in the Civic Center:
Last month, convicted arsonist Devin Hilton, described as homeless and mentally ill building fire pits in the area, was mistakenly identified by the Citizen app as responsible for the Palisades Fire. The fire burned approximately 1,325 acres through unseasonably dry vegetation that had not been burned in a significant fire for close to 50 to 60 years and caused the evacuation of approximately 1000 residents. Hilton was previously charged with arson and released on probation.
"Hilton appears to suffer from some form of mental illness and always refuses services. LAPD beach detail and First Responder volunteers monitor this area routinely and only find his newly constructed fire pits. He always vanishes before the team can apprehend him. In the month of March, our team cleaned and dismantled his newly created fire pits on three different occasions. Our team is challenged by individuals suffering from mental illness. It is particularly concerning when persons such as Hilton exhibit dangerous behavior that threatens the safety of our community," the Pacific Palisades Task Force on Homelessness wrote to the Santa Monica Mirror.
This is the action of one person – and there are many like Hilton living in our coastal canyon areas. The Venice Homeless Sweep will more than likely bring many more.
This year, Topanga Canyon is dense with thick vegetation has seen an uptick in human related fires in 2021.
I reached out to James Grasso, Director of the Topanga Coalition for Emergency Preparedness to get some insight on what to expect going forward in 2021.
TCEP's Twitter feed shows the following incidents since the beginning of the year. While not all are encampment related, the potential for more in our area, previously unhoused in Venice will most likely bring these numbers up significantly – along with it, significantly more danger to public safety:
PCH Temescal fire 5/24/21 – spot fire.
Palisades Fire 4/14-4/17 – approximately 1202 acres on 5/21, 100% containment 5/27/21
Coast Fire 18741 PCH 5/5/21 – 50×50 spot fire
Virgenes Fire 4/29/21 – Held at 5 acres
Malibu Knolls Fire  2/28/21 – Held at approximately 4 acres
Rambla Pacifico Fire 1/17/21 – Held at approximately 5 acres
Tuna Canyon at PCH 1/15/21 – 50×50 spot fire
Coastline Fire 1/9/21 – Held at approximately 1/4 acre
Latigo Canyon 1/8/21 – Held at approximately 2 acres
TURF WAR?
"I did not invite the Sheriff into Venice Beach," Chief Moore said recently who called Sheriff Villanueva the day after his visit to Venice "I asked him, 'How can we work together? I want to talk to you as Chief-to-Sheriff." more told LAist.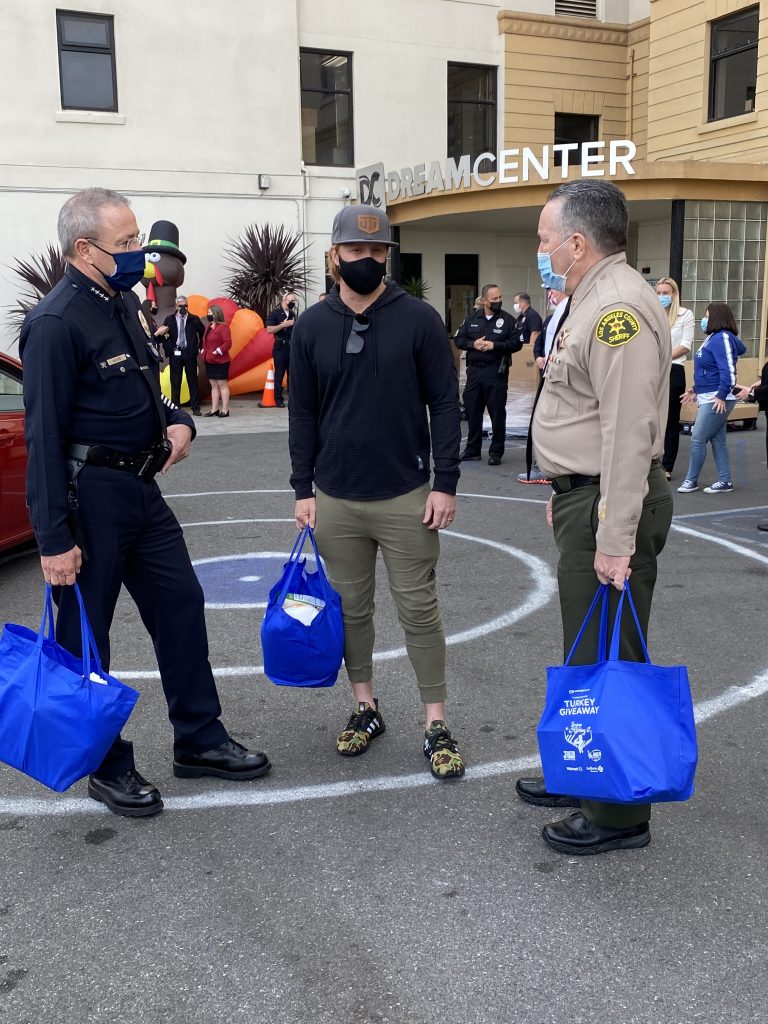 Clearly, the Sheriff bypassed LAPD Chief Moore, who was none too pleased (and rightfully so) and much needed cooperation in LAPD patrolled area could have guaranteed greater success.
Creating rifts with your peers for a "humanitarian effort" is not productive to problem-solving especially when it is a monumental issue requiring a multi-agency effort. Not to mention, further discussion could yield a solution to divert the Venice unhoused away high fire risk areas.
Which leads us to ask the following questions:
1.) Why weren't the first steps by the Sheriff to reach out to Chief Moore and the stakeholders to have a roundtable?
Those are powerful optics during campaign season to see leaders coming together to solve a huge problem plaguing the county. Not to mention, a little pre-media circus field trip could have yielded a little more intel on "Robert" the Vet (a well-known local even I knew of when I lived in Venice before moving to Malibu), avoiding the embarrassing, very public backlash.
2) Who convinced the Sheriff this needed to be a one-man show in a very politically-ego-driven environment?
DEJA VU IN '22?
Sheriff Villanueva has been very proactive in our coastal community when it comes to emergency preparedness. Which is why the Venice sweep in LAPD jurisdiction, caught many in LASD patrolled contract cities, by surprise.
In November 2018, the Woolsey Fire burned  97,000-acres, destroying more than 1,500 structures and responsible for three deaths, then Sheriff-elect Villanueva, took the initiative and made the trip from his La Habra Heights home to the Zuma Beach command post to talk to the troops.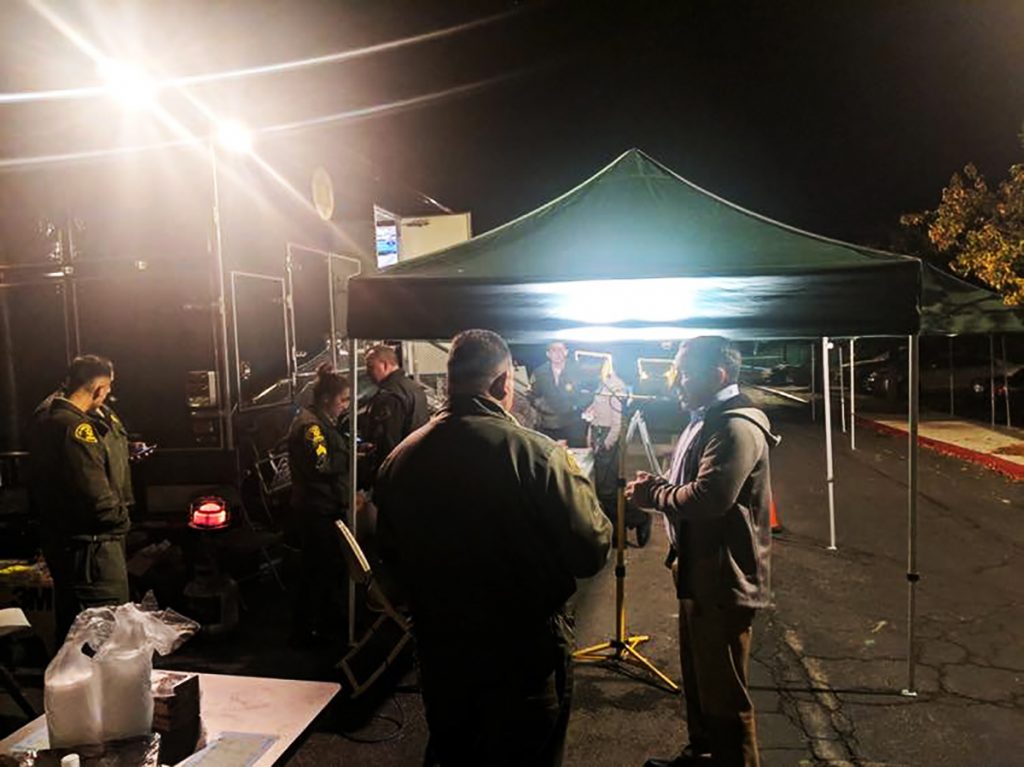 A few weeks later and only days after his swearing in, Villanueva's first town hall as Sheriff of L.A. County was in Malibu to address Woolsey Fire victims and their concerns. The Sheriff also came for a second town hall a few months later, in May of 2019, to discuss the emergency procedures and preparedness for upcoming fire season.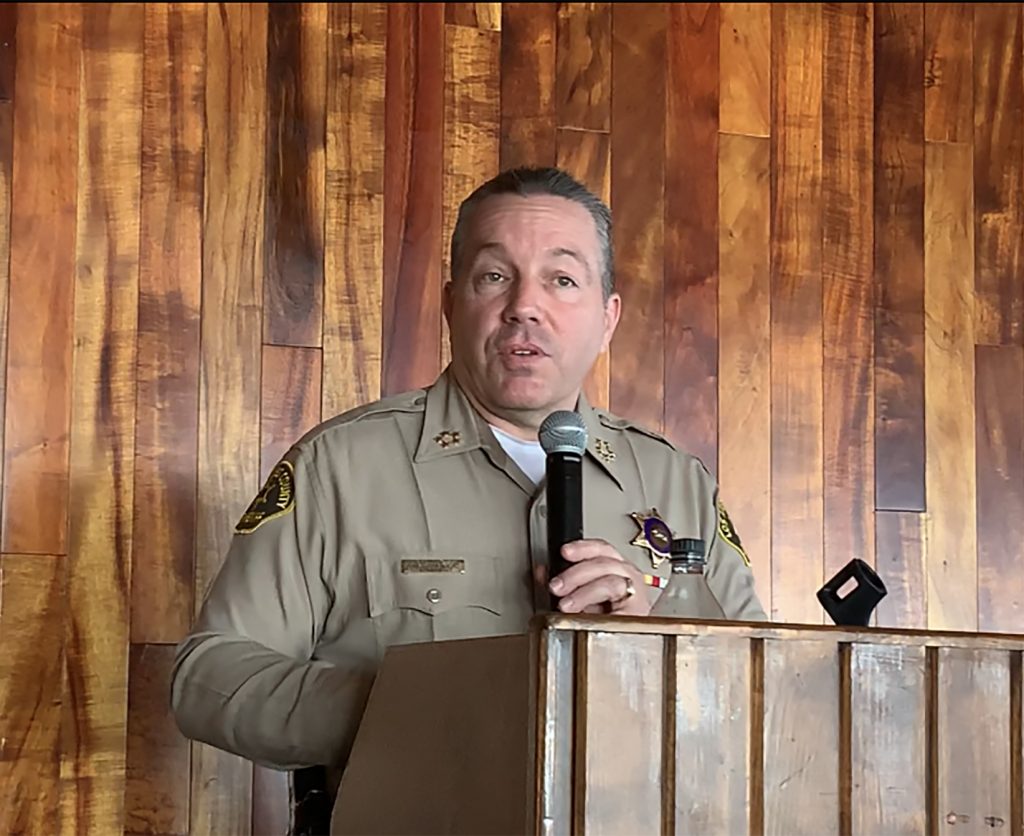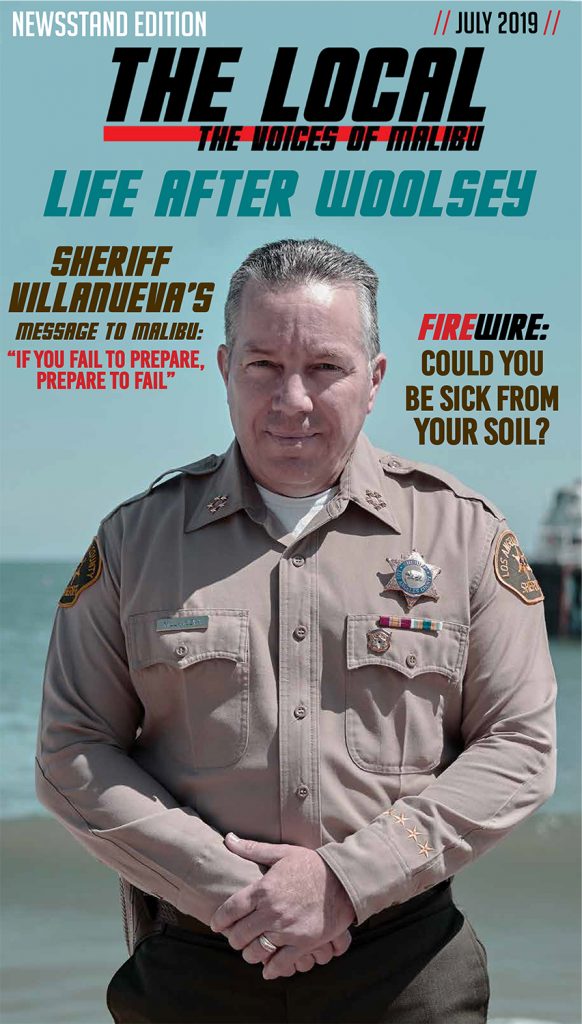 A few months later, in October 2019, Sheriff Villanueva, after being made aware of the failures to post emergency updates during not one, but two significant fires occurring in the first wildfire season after the Woolsey Fire, the Sheriff ordered an overhaul of communication at the station – specifically social media and how the station distributes emergency communication. The result has been a robust social media presence tagging local media to ensure public safety alerts have wide distribution.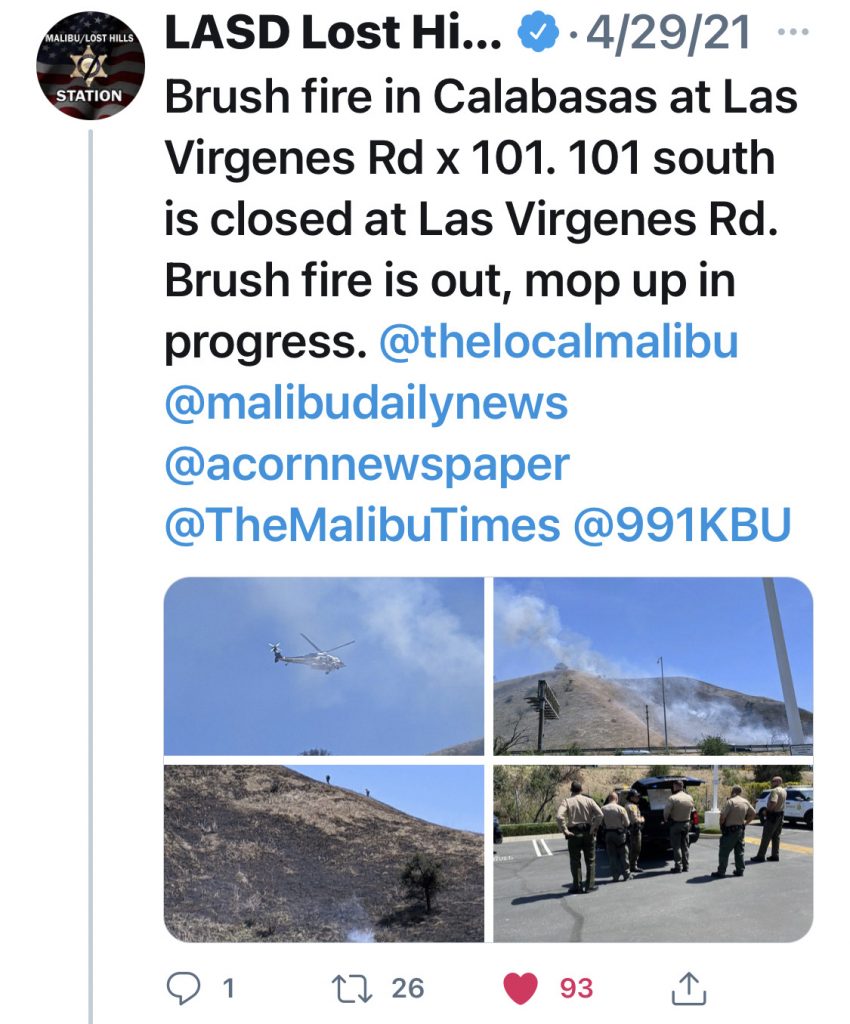 Eight months later and in the midst of the pandemic, Sheriff Villanueva and members of his command staff visited 69 Bravo Helispot in Topanga to understand the region that was untouched by the Woolsey Fire and prepare for the upcoming fire season.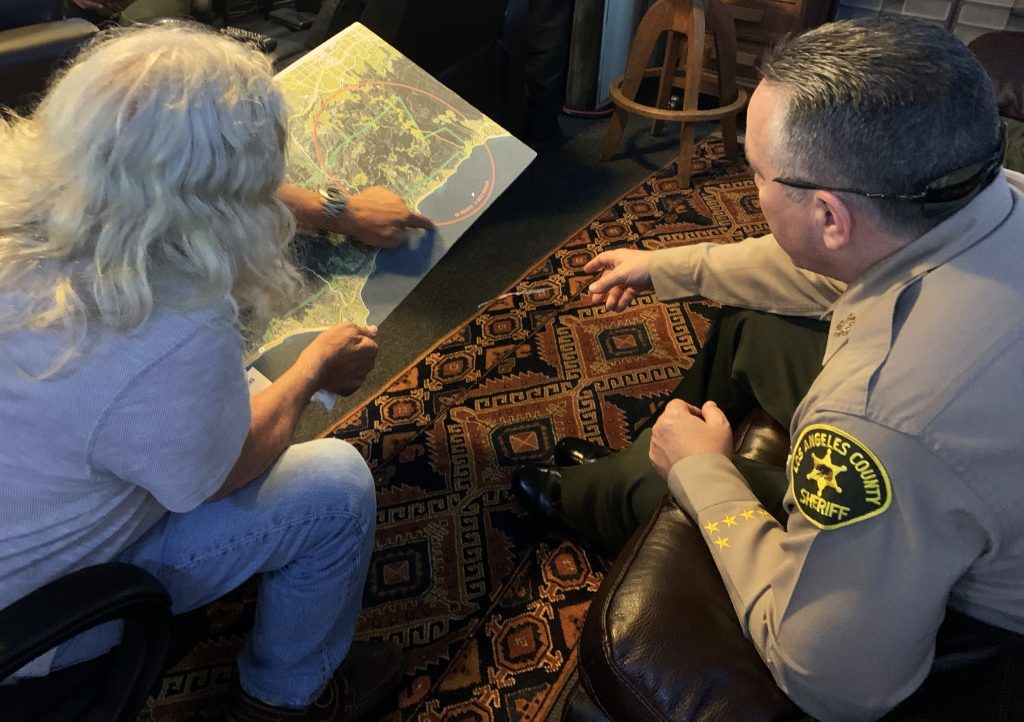 Needless to say, Sheriff Villanueva easily got a crash course in wildfire danger in his first six months in office so why would he take on a Venice Beach Boardwalk, an LAPD patrolled area, as opposed to one of his contract cities?
And why would the Sheriff put five of his contract cities bordering the Santa Monica Mountains; Malibu, Calabasas, Agoura, Westlake and Hidden Hills, already vulnerable to wildfires due to environmental conditions and at increased risk due to the rising homeless population, in more danger by ordering a neighboring coastal community not under LASD patrol, to be cleared out?
It completely defeats his first priority as head of the largest Sheriff's Department in the country, which is putting public safety first – specifically that of the contract cities that pay for that protection.
The five contract cities patrolled by the Lost Hills Station pay LASD $26 million annually servicing 100k people, not including the summer months when the visitor impact rises to approximately 1 million people.
With those numbers, the highly controversial Venice Beach Humanitarian effort is a short lived victory for some and a long term disaster for many others who face wildfire danger daily due to homeless encampments.
THE TIDE HAS TURNED
Unfortunately, as of late last year, the Sheriff's attention and that of his staff, turned to his 2022 campaign efforts and the winds of changed set in (hence the out of character, left-field-field-trip to Venice Beach).
While the Sheriff has always referred to his administration as having an "open door policy", many devoted supporters who stood by his side during some of the darkest moments of his administration, are now experiencing the doors being firmly slammed shut in their faces.
Really bad timing (for him) if you ask me.
As I addressed the legitimate concerns of Council member Silverstein to the Sheriff via email the other day, I found myself flashing back to my communication with former Sheriff Jim McDonnell during the Malibu Creek State Park Shootings (and we all know that was the last nail in McDonnell's re-election coffin) – and all of the sudden it was 2018 all over again.
Not the deja-vu I was hoping for Sheriff Villanueva as the 2022 election inches closer.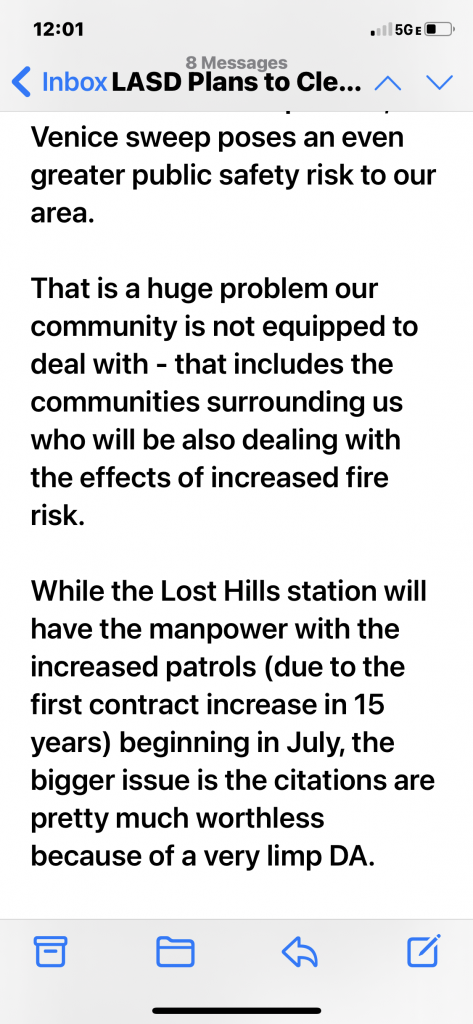 The strife between the Sheriff and some of his ardent supporters – not to mention the inner power struggle at LASD HQ – hits a little "too close to home" sources say.
You know the old saying "Don't bring your work home with you"?
Well, the opposite applies when you are running the largest Sheriff's Department in the country.
This and more will eventually reveal what's actually going on behind the scenes on the eight floor at the Hall of Justice and should illuminate the changes have greatly affected the Sheriff's relationships and support around the county.
LOST ANGELES
At the time Malibu City Council member Silverstein was making his inquiries regarding the Sheriff's Venice Homeless Sweep, CBSLA tweeted about the significant rise in homeless encampment fires in Downtown Los Angeles. A whopping 84% rise – also in LAPD jurisdiction – and also right outside the Sheriff's office at the Hall of Justice.
Yohan Han, who owns the sporting goods store Glory Trading, found his downtown property on fire last week, costing him more than $100,000 in merchandise. The fire was caused by an unhoused person living outside his store.
"It's so sad," he told CBSLA. "I can't even explain my words, but I want everybody to see what's happening in this city. This is the reality of what's going on." Those working the fires downtown say they're putting out about 300 rubbish fires each month.
COWBOY UP
Supporters of the Sheriff have been preaching the cowboy thing for quite some time now –  even before Sheriff Chad Bianco, a real cowboy with horses and even has his own barn – came out with guns blazing against Governor Newsome as California braced for more uncertainty and a second lockdown last December.
Villanueva, was cautioned to be strong and clear by community leaders (myself included), as to be very clear about what the Sheriff's Department was going to enforce during this devastating time, but instead he decided on a mild quote posted on Twitter (and to Fox 11), and left it at that.

Needless to say, Bianco made national news, Sheriff Villanueva did not.
It's not that Villanueva wasn't well equipped with information, because he was and had the ability to speak out against politicians during the pandemic, just as he is doing now – but, it wasn't officially campaign season, and wasn't quite sure who was going to back him, so he saw no reason to come out with guns drawn.
That unfortunately, was a sizable, missed opportunity.
The new year ushered in an opportunity for the embattled Sheriff to turn his reputation around and join victims in their fight for justice against the pro-criminal directives of District Attorney George Gascon.
Villanueva got off to a slow start, but eventually joined in with his Victims Matters campaign and his support of the DA Gascon recall. The Sheriff also struck up a dynamic duo friendship with Deputy District Attorney Jonathan Hatami,  a veteran child abuse prosecutor and advocate for victims rights and their families.
Win-win.
Unfortunately, the Sheriff's advisors stepped in, ill-advising again, and the Victims Matter campaign was abandoned for the Venice Beach humanitarian efforts in LAPD patrolled area (as opposed to his own contract cities) ranking #1 on the priority list as skyrocketing violent crime comes in at a distant second.
Despite his PHD in public administration, the Sheriff has not presented a solid plan for the Venice Beach Homeless issue or a for dealing with violent crime and the massive defunding the department is experiencing.
While the Sheriff may preach a tough-on-crime with the Venice Homeless issue, it loses its teeth the second it makes it to the DA's front door and this humanitarian effort, which the Sheriff did not seek the cooperation from other agencies in the area to guarantee a better long term success rate, is taking valuable time away from the Sheriff's first priority – serious public safety to combat serious skyrocketing violent crime.
Not very cowboy like… and not how you win the rodeo!
On that note…
In April, I attended an event hosted by LASD and witnessed a young girl about six years old approach Villanueva and asked him "Sheriff Alex, are you a real cowboy?"
Villanueva smiled and answered "No, but I play one on TV".