The families of three high profile cases that occurred in the L.A. County Sheriff's Department jurisdiction, were recently denied additional assistance to get answers in their unsolved cases.
The families of Mitrice Richardson, Elaine Park and Matthew Weaver Jr. personally contacted Sheriff Alex Villanueva on April 1st, 2021 requesting a lateral investigation. Five days later, they received a response from Headquarters denying their request. The email was not sent by Sheriff Villanueva, but by the Captain of the Sheriff's Information Bureau, John Satterfield.
It is unclear why Sheriff Villanueva thought it was appropriate to have the Captain of the Sheriff's Information Bureau, who fields questions from reporters, directly communicate with the victims families regarding such an important request, or why he would overlook the insensitive nature of sending a subordinate to respond to a highly sensitive email – especially one that includes high profile cases that have attracted global attention.
When Colleen Weaver, the sister of Matthew Weaver Jr. received the response from Captain Satterfield, she was furious – and rightfully so.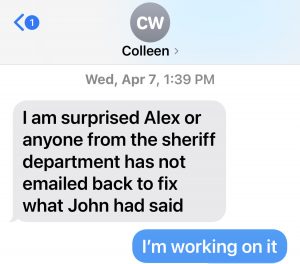 Colleen and I met in the summer of 2018, when I broke the story shortly after her brother went missing during the Malibu Creek State Park Shootings.
At the time, Matthew's father, Matthew Sr., was devastated and desperate to find his son. He reached out to me as Matthew's story was not getting traction with local news media.
I looked at the information, connected all three cases, Richardson, Park and Weaver as going missing in the same general vicinity in the Dark Canyon area and wrote about it. After the connections were mapped out, the media took notice right away and the story went national almost immediately.
The Weaver family and I became close as a result of my efforts and on-going investigation in the case.
In the fall of 2020, Weaver Sr. who was distraught over the lack of effort by law enforcement to help him find closure in the case, had a mental breakdown which led to a confrontation – and eventually a shootout with CHP officers in Simi Valley. Weaver is currently being held at Men's Central Jail awaiting trial for attempted murder of police officers.
PROMISES, PROMISES
In 2018, during his campaign for Sheriff of L.A. County, Sheriff Villanueva made a personal promise to "put additional eyes" on the Mitrice Richardson case, if elected. Fast forward 10 months, to the 10th anniversary of Richardson's disappearance and the press conference at the Lost Hills Station, where Villanueva did a slight back pedal…
"That information…again…that's 10 years ago, I can't account for something that happened when I was literally a Sgt. on the department… If there was something I could do with that administratively and I had the legs to do it , I could… act on that. Most of the people involved at that level have since retired, I don't have the teeth to do it…" -Sheriff Alex Villanueva, September 17th, 2019
However, in all fairness, he made good on his promise and assigned a detective to the case a few days later.
THE BACK STORY
On September 17th 2009, Mitrice Richardson was released under suspicious circumstances from the Lost Hills Station after being arrested at Geoffrey's restaurant for failure to pay her bill (legal term is "defrauding an innkeeper") and possession of under an ounce of marijuana.
Despite communication between the station and her mother to ensure Mitrice's safety while in custody, she was released shortly after midnight, with no cell phone, no money and no transportation.
Off she went into the night, only a few miles from Malibu Creek State Park, never to be seen again. Her partially mummified body was found 10 months later just 1.5 miles from where she was last seen in Dark Canyon and six miles from the station.
Richardson's case was originally under LAPD's jurisdiction due to her place of residence, as is the Weaver case currently.
Elaine Park's case is currently under Glendale Police Department's jurisdiction.
All three, Richardson, Park and Weaver have had no resolution to their cases and Weaver and Park have had little to no movement at all in almost three years, including multiple changes in detectives assigned to their respective cases.
And another reason why, in total frustration, the families reached out to Sheriff Villanueva for help.
Due to the geographical location where these incidents occurred, under the jurisdiction of the Lost Hills Sheriff's Station, it makes all the difference to have LASD involved in a lateral investigation, as they are in the Richardson investigation.
While all three cases have had serious issues the past with investigation protocols, search criteria, cover-ups and intentionally misleading the public and the media, under the previous administration (former Sheriff Jim McDonnell), knowing Sheriff Villanueva has had an open door policy, they expected more than a boiler plate response regarding their request.
THE ULTIMATE 180 DEGREE TURNAROUND
There is no question the Lost Hills Station has seen a drastic transformation under Sheriff Villanueva's leadership.
Multiple scandals later, including the dissemination of the Kobe Bryant crash photos and the failure to issue a Public Safety alert for a sexual predator who broke into a Pepperdine student's condo, lead to removal of former station Captain, Matthew Vander Horck.
Enter Captain Chuck Becerra who was placed in charge of the station in February 2020, shortly before the COVID lockdown.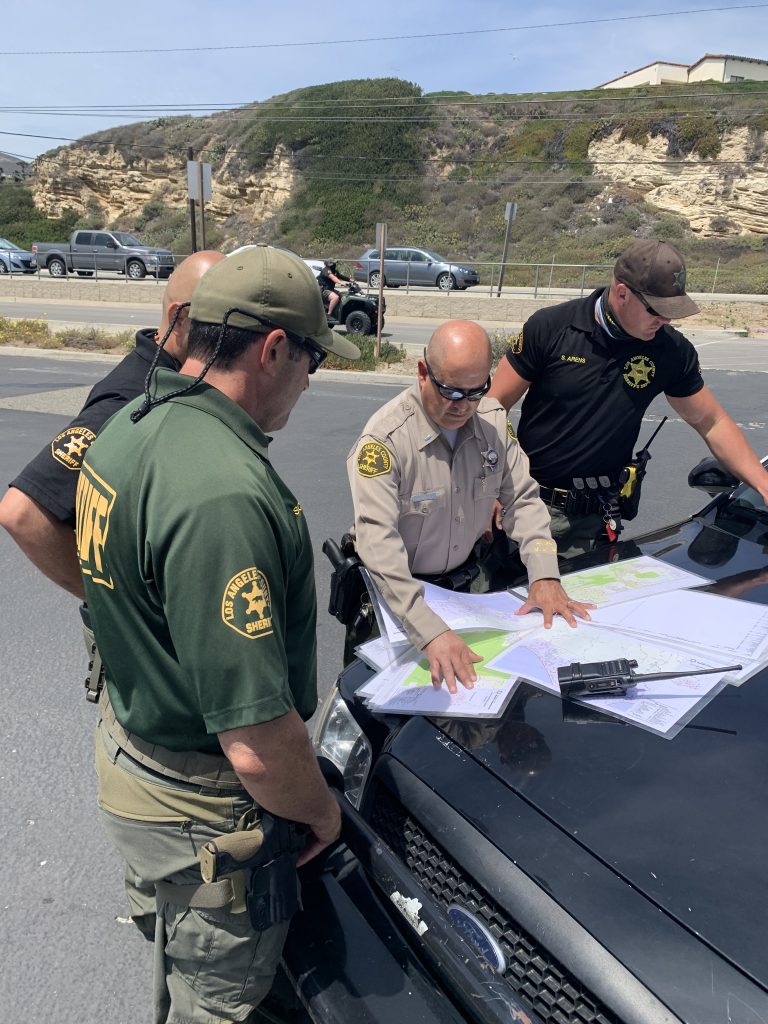 Captain Becerra, who was Acting Captain before Vander Horck, has become an integral part of the communities served by the Lost Hills, winning the hearts of many, including a family who endured "challenges" with the station (under former Sheriff Jim McDonnell) and eventually went to litigation (and won).
Over the past year, Becerra has made a huge difference building a trusting relationship between the community and local law enforcement.
Additionally, key changes in the command staff at Lost Hills, including changes in transparency and social media protocols, has made the station a stellar  example of community policing, a platform Sheriff Villanueva campaigned on in 2018.
One of the major successes of Villanueva's administration.
VICTIMS MATTER
Sheriff Villanueva started 2021 with a powerful stance against the pro-criminal directives District Attorney George Gascon put into effect immediately after being sworn in on December 7th.
Although the Sheriff was a little hesitant coming out against the new D.A. at first, stating he did not have "enough information", shortly after multiple Deputy District Attorneys came out publicly against their boss, Villanueva then stepped up six days later launching the L.A. County Sheriff's "Victims Matter" campaign.
Shortly after, Villanueva joined forces publicly with maverick DDA Jonathan Hatami, the first deputy District Attorney to come out against Gascon on December 15th, 2020. Hatami, a veteran child abuse prosecutor, went on ABC News to speak out for victims of L.A. County on December 15th, 2020, his 50th birthday and the same day he was in court for the torture and murder of a four year old girl.
Over the last five months, Hatami has gained national attention for speaking out for victim's rights and the rights of their families while District Attorney George Gascon continues to singlehandedly dismantle our legal system in favor of violent criminals.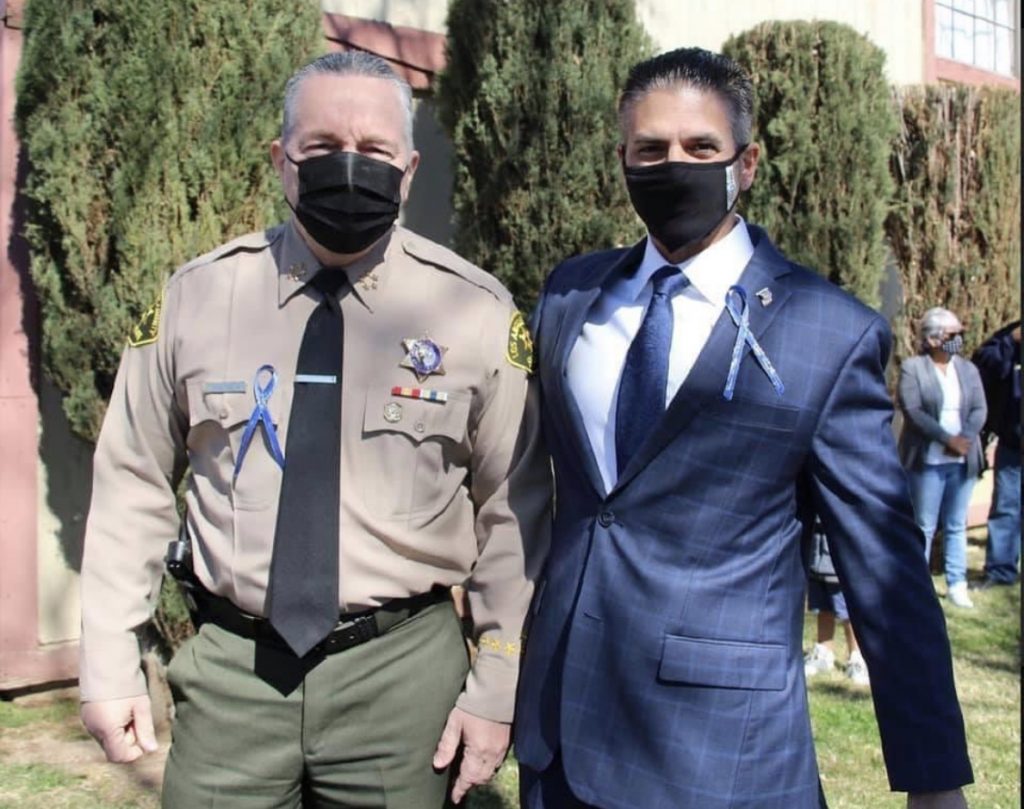 On February 27th, Sheriff Villanueva made his first public appearance supporting victims rights at the victim's vigil and recall kick-off against D.A. Gascon.
He stood in front of the Hall of Justice making a very convincing speech about how Gascon lied to voters. It was a proud moment for public safety in L.A. County.
However, in the last three weeks, since the announcement D.A. Gascon would not be seeking the death penalty in the Anthony Avalo case, Sheriff Villanueva has gone dark on victims.
This is especially alarming as the top cop of the largest Sheriff's Department in the country is dealing with massive defunding and violent crime growing at at alarming rate.
Instead, this past Wednesday, Sheriff Villanueva announced he would be focusing his attention on the homeless situation.
So, the obvious question would be, did he abandon victims for a different campaign strategy?
I mean, homeless… that's a hot topic (like… forever?)
A definite mic drop.
And, we get it, it's election season. Good idea stepping in and trying to fix L.A. City Council member Mike Bonin's epic failure because homeless is a big bad problem in L.A. County.
But.. violent crime has become way bigger – and is on it's way to becoming overwhelming – especially with the defunding of law enforcement (which we hear is going to continue to increase per the Board of Supervisors).
As the leader of public safety in L.A. County, we expect the Sheriff to put that first – not picking the flavor of the week that might win an election.
Oh and by the way, election season has become a cautionary tale for many politicians.
It's the difference between winning and losing.
The incumbent turns his focus to his campaign for re-election and fundraising takes the front seat.
Advisors, old and new, are chirping loudly in his ear, at times so overwhelming, he suddenly loses focus of what is most important.
Even when it's right in front of him.
(Mic drop).