The Los Angeles Police Department is taking extraordinary measures to recruit potential candidates. A think outside the box, by all means necessary approach to hire personnel at LAPD amid a historical staffing crisis and significant budget cuts as a result of the 2020 Black Lives Matter movement following the death of George Floyd.
LAPD Chief Michel Moore will be headed to Glendale Arizona to address members of the Los Angeles Dodgers organization this weekend. The chief and the two recruitment officers leave Saturday and return Monday leaving Assistant Chief Dominic Choi as acting police chief.
The trip was approved by the Board of Police Commissioners on Tuesday, March 14.
"Going into that sport, they have attributes like teamwork, athleticism and emotional intelligence that if they hadn't thought of coming in and transitioning those into law enforcement, they should." Moore told the Police Commission at the meeting.
LAPD already employs former members of the NFL and the NBA. The recruitment process would take place in meetings with players, Moore said. The idea to recruit players was brought up in 2019 when Moore met with Dodgers' manager Dave Roberts, he said.
Moore, 62, was appointed by former Mayor Eric Garcetti in 2018. He has been with the LAPD for 40 years.
Recently appointed for a second term by Mayor Karen Bass, Moore publicly stated he does not intend to serve the entire five-year term as he wants to hand the reins to his successor prior to the World Cup in 2026 and Summer Olympics in 2028.
As a result of the social justice protests during the COVID lockdown in 2020, Los Angeles City Council took a dramatic step cutting $150 million, approximately 8% of its budget, promising to put that money into other social services.
Moore told the LA Times the $150-million budget cut forced out 350 sworn positions, the department had to cut its air support, robbery and homicide and gang and narcotics units, reducing its ranks from about 10,110 sworn officers to an estimated 9,752 by March or April 2022. Many more civilian employees were also lost as a result of the cuts.
LAPD is at its lowest level of staffing since 2008.
Maintaining a 10,000-officer staff had been a goal of Los Angeles officials after the department reached that number for the first time in 2013, however, it is unclear if Bass will seek to increase police funding to reach that goal after the significant budget cuts in 2020.
Retired LAPD Detective Moses Castillo told The Current Report "LAPD has had a tough time recruiting given the current anti-law enforcement environment which forced the department to send out letters asking retired officers to come back."
Given Bass's new directives lowering qualifications for new recruits is hardly an incentive for retired law enforcement to come back to the department and put their lives on the line.
The newly-elected mayor called to remove "obstacles" for new police recruits who fail to initially qualify for training as a means of further diversifying the LAPD.
Law enforcement leaders are calling the move "dangerous".
By lowering the qualification requirements for recruits, including the elimination of the written test, it is significantly impacting the ability to identify whether a candidate can read, write or use critical thinking skills. Law enforcement officials have deemed this and other new directives issued by Bass to be extremely problematic and believe could result in another Rampart Scandal.
Bass' summary of goals for police reform, entitled "Los Angeles Police Department Matrix", includes a list of provisions as well as dates by which the department must report back regarding progress. Many of those dates have passed with no reported updates per our sources as of yet (other than the elimination of the written test).
Below is the list leaked by sources to The Current Report: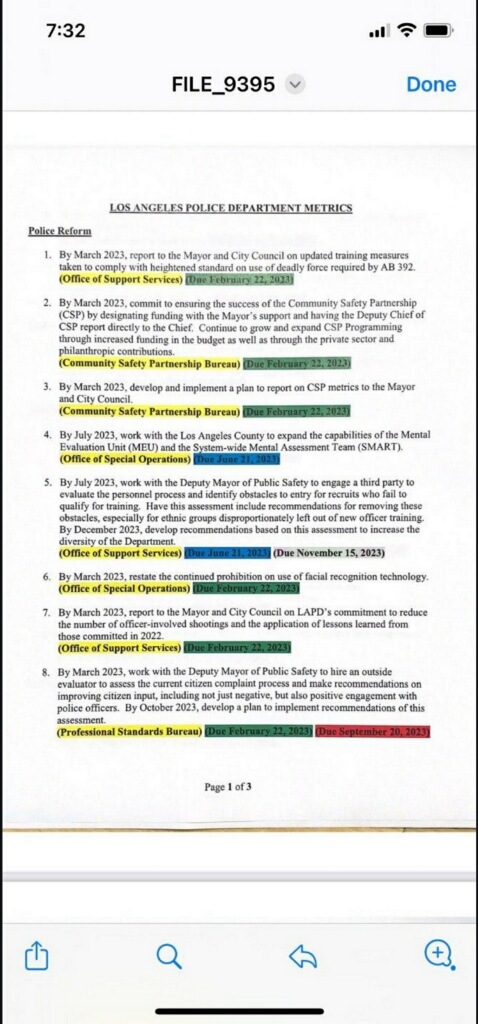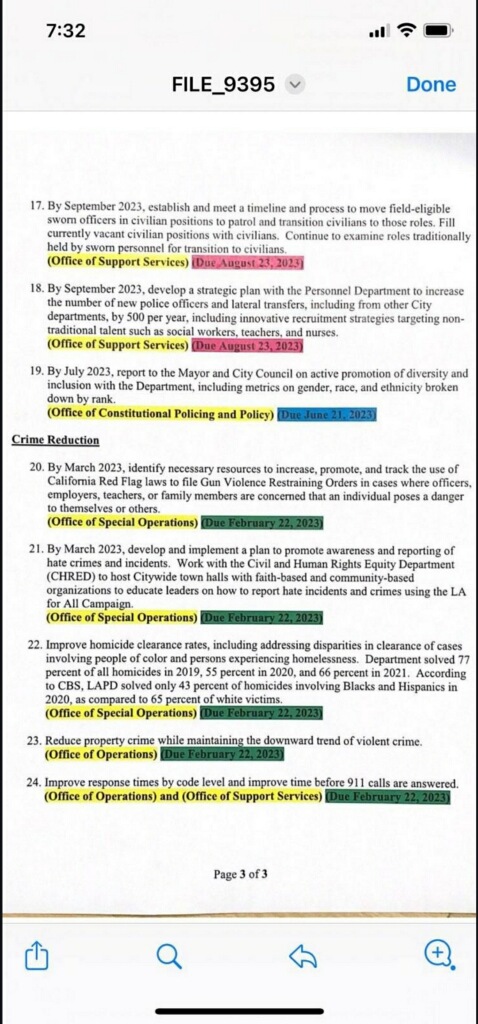 Recently, Tom Saggau, Los Angeles Police Protective League (LAPPL) spokesperson told Fox News:
 "If you have police officers that can't make minimum qualifications or attained minimum standards, for instance, there are recruits that have been in the academy that just can't score the minimum requirements for a physical fitness test," he added. "One hundred is the maximum score, 50 is acceptable. There are folks that are scoring under 10. That's just dangerous."
The provision states that recommendations to remove any obstacles will be taken into consideration, especially with those in relation to "ethnic groups disproportionately left out of new officer training." Saggau said the provision calls for the lowering of standards within the police department as new hires who did not initially qualify during training are shown not to "possess the mental fitness or the physical fitness ability to be a police officer."
During her time in Congress, Bass authored the George Floyd Justice in Policing Act, and though Republican opposition halted it in its tracks, the legislation branded her as a politician attempting to "modernize" law enforcement at the national level.
In April, Bass will present her first budget, a reflection of one's political agenda, not to mention her true regard for law enforcement and overall public safety in Los Angeles.