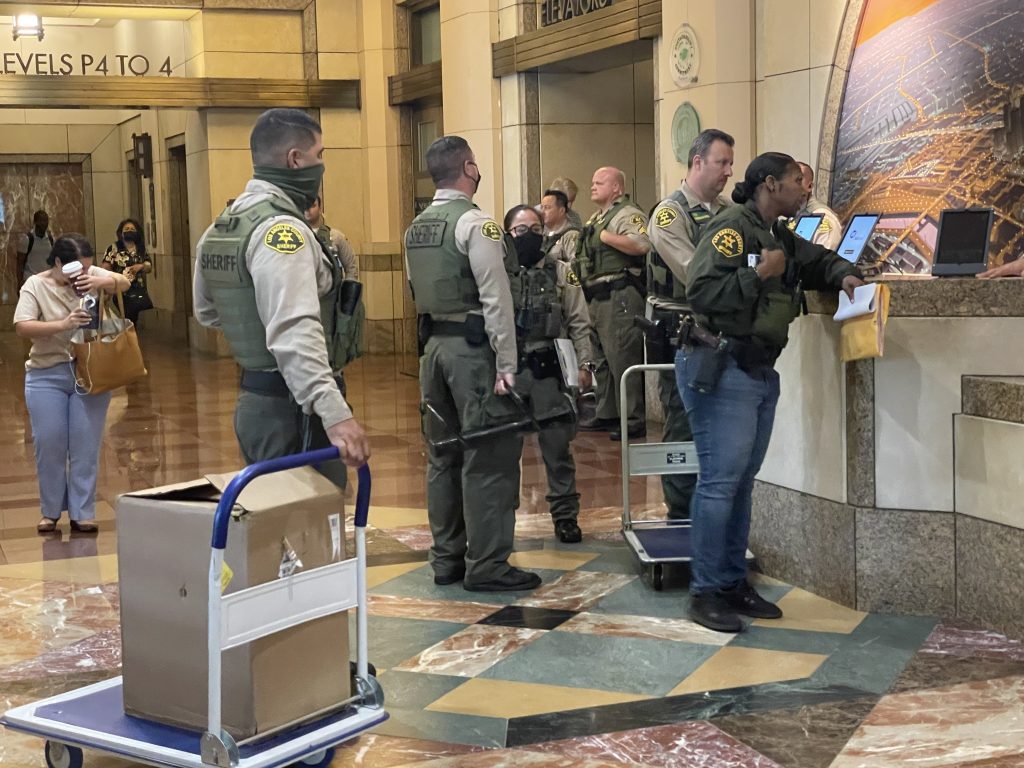 Last week, as a result of a criminal investigation spanning three-years, warrants were served at multiple locations, including the home of Supervisor Sheila Kuehl, LA Metro Headquarters and the home of Peace Over Violence CEO Patti Giggins, a close friend to Kuehl, to seize documents and evidence involved in Pay-To-play, Fraud, Waste and Abuse, among other alleged criminal acts.
While mainstream media is pushing the vendetta narrative high-lighting the contentious relationship between Sheriff Alex Villanueva and the Board of Supervisors, namely Sheila Kuehl, this criminal investigation, based on thousands of documents reviewed by The Current Report dating back to hotline scandal in 2020, could ultimately lead to former CEO Phillip Washington losing the Biden-backed nomination to become head of the FAA.
The whistle blowing at LA Metro began during the sexual harassment investigation of Alex Wiggans, Chief of Systems Security and Law Enforcement.
The allegations were brought by current LA Metro employee Sandra Solis, a nepotism hire by Washington. During the investigation into the sexual harassment by Alex Wiggans, investigators asked Jennifer Loew, Special Projects Manager,  about Solis and nepotism at LA Metro.
Loew provided investigators with the names of Jon Gordon, Harold Martin, Patricia Martin and Ashely Martin, all nepotism hires who received direct appointments by Washington along with special compensation (at the objection of metro's HR) in amounts that could lead to indictments of Washington for Grand Theft.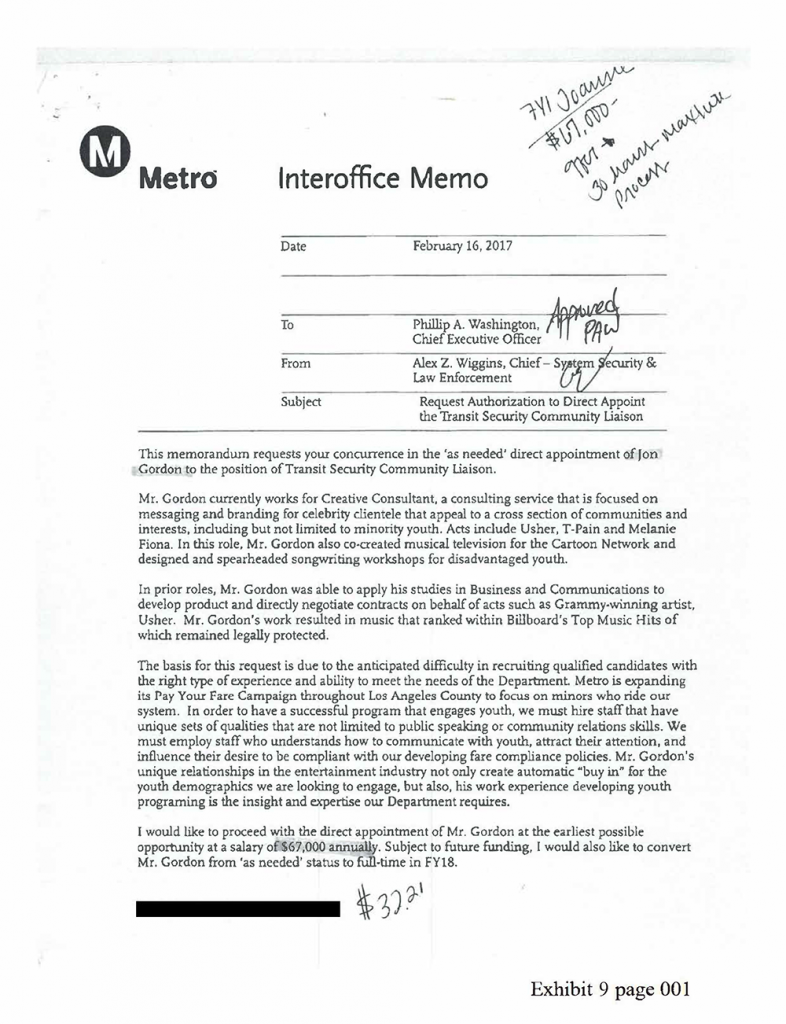 Unbeknownst to Loew, her testimony related to Washington's nepotism hiring were not kept confidential and OIG Karen Gorman provided Washington with the details of Loew's testimony.
Subsequent to receiving Loew's testimony, Washington met with nepotism-hire Gordon and manufactured allegations of misconduct against Loew. Following that meeting, Washington took decisive action to protect his acts of nepotism and launched an HR investigation of Loew. Additionally, Washington took further adverse actions removing Loew's staff without any evidence of misconduct and placing her office on the first floor parking garage.
In retrospect, the meeting Washington took with Gordon led to a four years of on-going retaliation against Loew. As a result of the well-documented harassment, Loew was awarded $620,000 in restitution.
However, the political entanglements in this case reaches far beyond this high-profile criminal investigation and reached far beyond the alleged dirty dealings dug up starting with the original LA Metro whistleblower.
Washington is now the second appointee from the LA political pool to humiliate Biden and his choices to run the FAA with Mayor Eric Garcetti taking the top spot as ambassador to represent the US in India.
However, the senate and DC watchdog groups are paying attention.
As a result of due diligence, investigations into Washington's past as a result of the nomination process and now Washington being named in the criminal warrants, Senator Robert Wicker, the ranking member of the Committee on Science, Commerce and Transportation released the following statement:
"When Mr. Washington was nominated in July, I expressed my skepticism surrounding his lack of experience in aviation. Now I am deeply troubled to learn the nominee was named in a search warrant that ties him to allegations of corruption at LA Metro," Wicker said. "The committee's vetting process will require additional scrutiny and review into his leadership at LA Metro. I anticipate that this nominee's credibility will also be a key focus of the committee."
The political entanglements, specifically the one involving those named in the warrants that made national news last week, reach far beyond the the scope of Pay-toPlay, fraud and abuse and while Kuehl, Giggans and Washington use smoke and mirrors to distract from the truth surrounding their actions, you can guarantee that smoke you're seeing is actually a raging fire.
Shortly after the raid on Giggin's and Kuehl's homes, Giggin's released this statement:
"On the morning of Wednesday, Sept. 14, a search warrant from the Los Angeles County Sheriff was executed at the headquarters of Peace Over Violence and the home of Patti Giggans, our Executive Director and Commissioner on the LA County Sheriff's Civilian Oversight Commission (COC). The Sheriff removed items including desktop computers, our agency server, and Patti's personal vehicle.Simultaneously, they also raided the home of LA County Supervisor Sheila Kuehl, her offices at the Hall of Administration, and the LA Metro offices.
These actions are intended to disrupt Peace Over Violence and silence Patti Giggans and are due to the Sheriff's ongoing personal political vendettas that have transpired publicly. Clearly, these bullying tactics are meant to intimidate anyone who has criticism of the Sheriff. We reject the attempt to defame the organization, its programming and values, its integrity and the integrity of its Executive Director/CEO. 
Peace Over Violence and its Executive Director Patti Giggans are nationally recognized leaders in sexual and domestic violence with a reputation for providing responsive, quality services to survivors. We have partnered with law enforcement and government institutions for more than 51 years to fill the gaps that exist in supporting survivors including operating the nation's first and longest running sexual assault and domestic violence hotline. Our hotlines are supported in part by government contracts, grants, and other donations. Our government contracts have all been fairly granted and followed the rules and protocols of the awarding agency.
Despite this event, Peace Over Violence remains committed to the work of providing a safe place, listening ear, and trauma informed wraparound services to individuals and families impacted by sexual and domestic violence in Los Angeles County."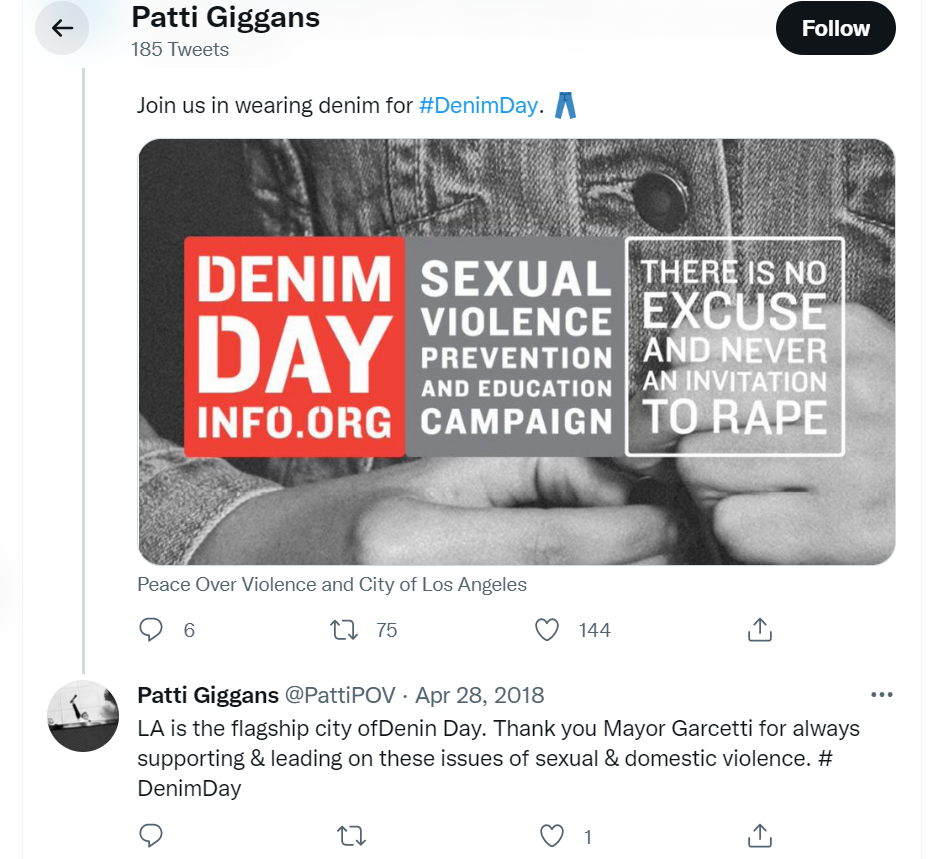 The Current Report has uncovered that the attempted (and failed) cover-ups of sexual assault aren't exclusive to LA Metro.
Sebastian Ridley Thomas, the son of disgraced former L.A. County Supervisor Mark Ridley Thomas who is now facing approximately 20 plus counts, was an active Member of Patti Giggans Peace Over Violence Advisory Board, as was Kuehl along with Giggans wife Ellen Ledley, trauma therapist. Sebastian Ridley Thomas was under investigation by the California Assembly for sexual harassment while serving on the Peace Over Violence Advisory Board with Ledley.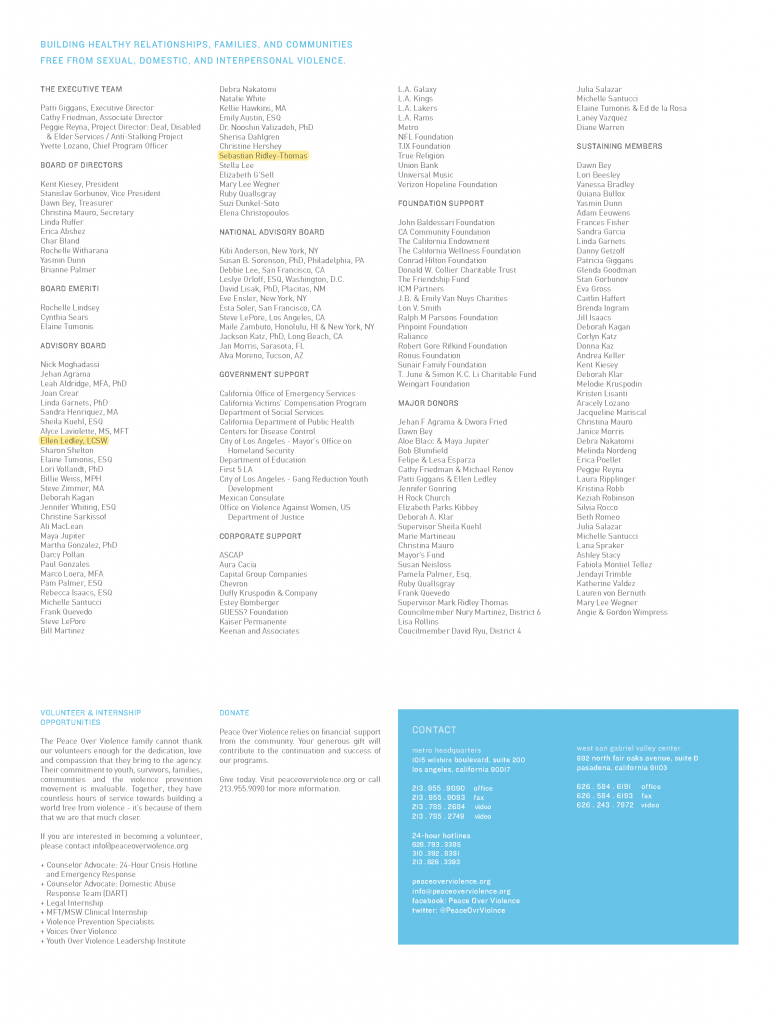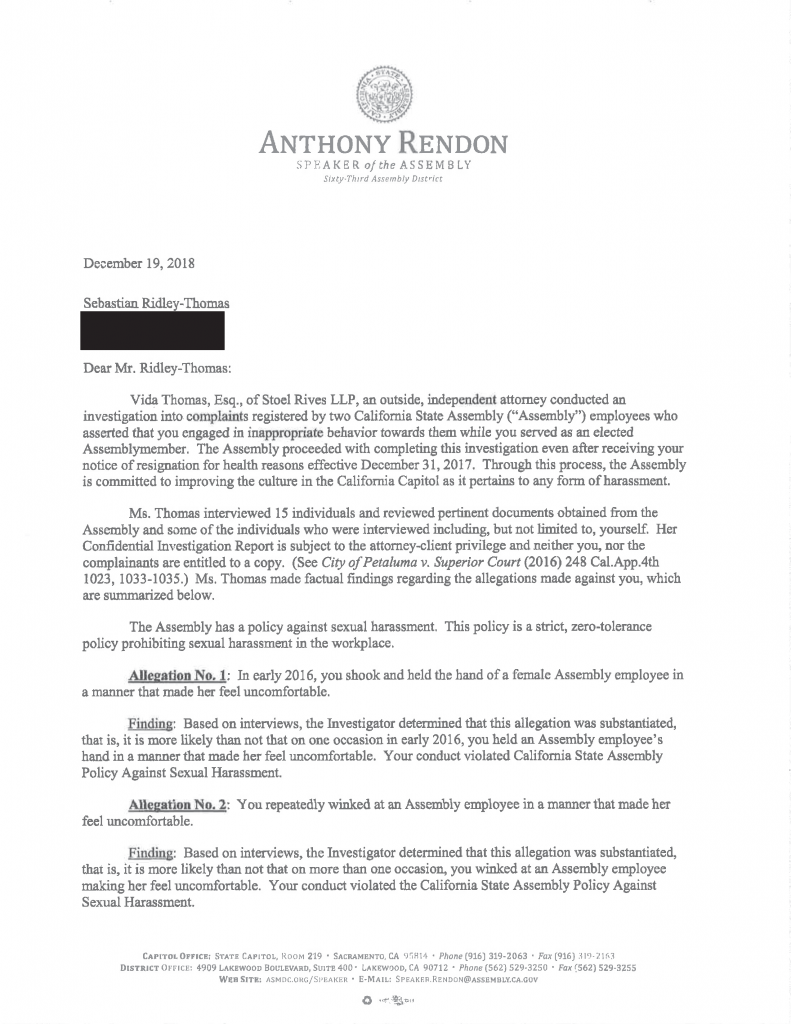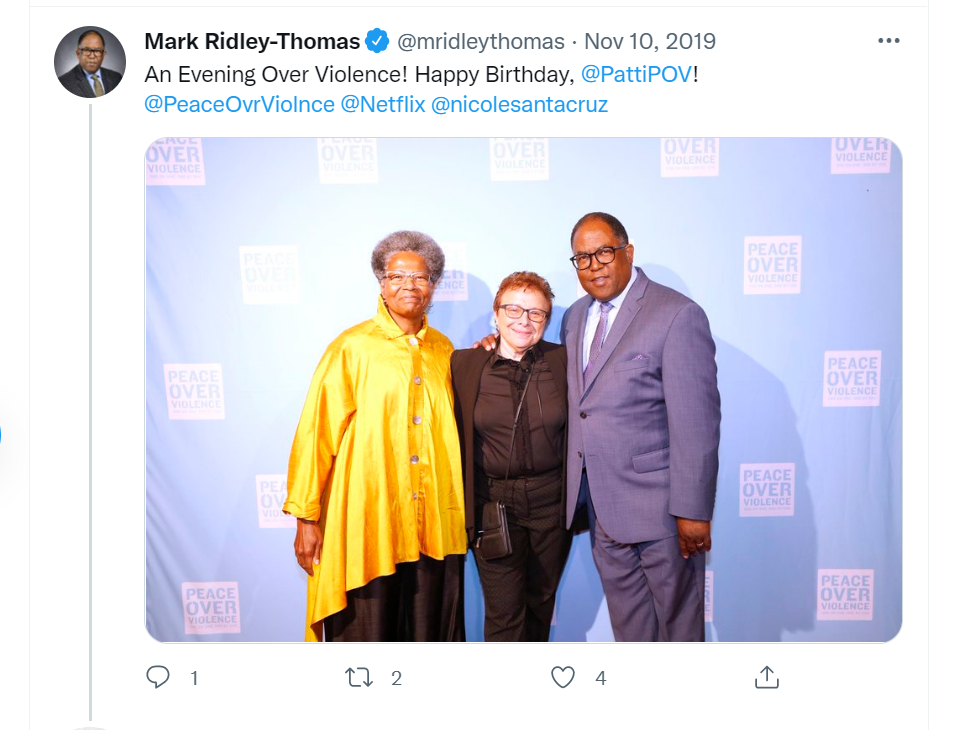 Equally disturbing is Giggans, rather than focusing on her mission to prevent sexual harassment, also got in bed (for lack of a better description) with the Garcetti administration, who is riddled with sexual harassment claims for which the United States Senate publicly stated Garcetti knew (or should have known) of the sexual harassment happening under his watch.
Unfortunately it is evident with all that is currently being uncovered, that Giggans is willing to sell out her organization's vision for financial gain.
"As Patti Giggans role in the L.A. Metro scandal continues to unfold, it is likely that Giggin's situation will continue to worsen" said Public Corruption expert Adam Loew whose wife is one of the whistleblowers of allegations of Public Corruption at L.A. Metro.  "…what people don't realize is that Metro is one of many contracts that Kuehl brokered for Giggans."
This is a developing news story.